Mining company denies illegal blasting claims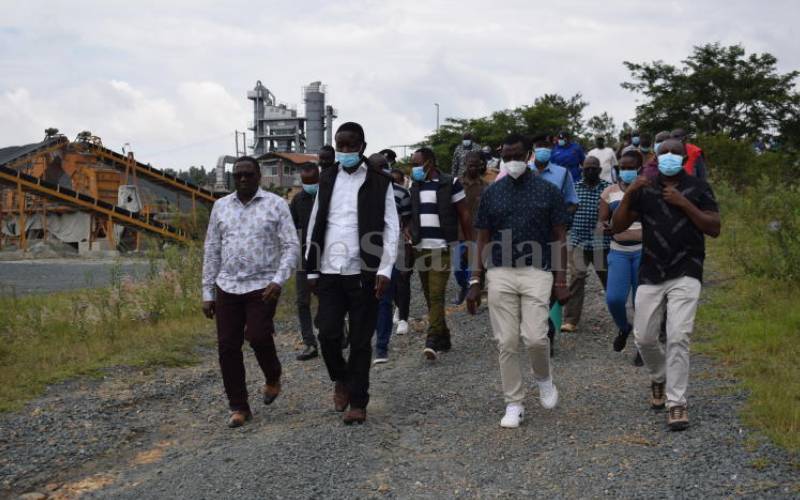 A Chinese company has said it has been legally undertaking mining and blasting of stones in Kasipul constituency, Homa Bay County.
Last weekend, the National Assembly Committee on Environment and Natural Resources accused China City Construction Company of causing damages through its mining activities at Aketch village in Konuong'a.
The committee, led by interim Chairman Paul Nzengu, ordered the company leadership to appear before it in Nairobi to answer to accusations levelled against it.
The residents petitioned the National Assembly through their MP, Ong'ondo Were, over the suffering caused by the company.
Over 600 residents raised grievances that include miscarriages by expectant women, some reportedly developed heart attacks from the impact of blasting, while others developed respiratory diseases.
The firm has been mining stones and making ballast for construction of roads in Nyanza since 2018.
In a press release, the company said it had built roads in the area and offered job opportunities to locals. According to the firm, it was undertaking its activities in line with the law.
"This was done according to section 58 of the Environmental Management and Coordination Act, Cap 387, which demands that any new project be subjected to an Environmental and Social Impact Assessment (ESIA) before its commencement," the company said.
The company indicated that it sought for authority to blast from the government.
"All blasting activities at the approved quarry were undertaken by a highly experienced holder of a valid permit to use blasting materials appointed by the contractor and approved by the Mines and Geology office," the company wrote.
The company indicated public participation and communication was done before every blasting activity.
"All people living/working in the vicinity of the blasting site were always evacuated to safer distances before the blasting process began," the company wrote.
It said it also employed a wet crushing mechanism to ensure efficient air pollution control and complied with noise regulations.