How mother nature has messed busy Siaya beach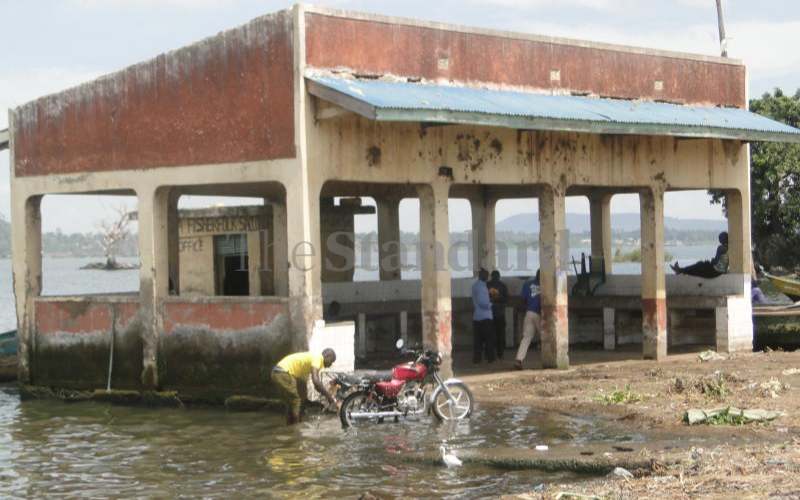 On the shores of Uwaria Beach in Bondo Sub-county, old buildings that have clearly seen better days, and an abandoned fish banda, are the only signs that this was once a busy fish landing site. Uwaria had endless human traffic, a cacophony of frenzied shouting from traders, bargaining buyers and loaders with heavy luggage on their shoulders.
Samson Okoth, a fisherman, says the beach harboured traders and visitors from as far as Gem, Ugenya, Alego and Seme.
That was until April last year, when the beach was submerged as water levels in Lake Victoria increased. This was coupled with the Covid-19 pandemic.
Today, the beach that owes its growth to fish trade is a collection of run-down structures. The submerged shops and roads are an indication of the beach's lost glory, all in one year. The fishing community is trying to recover from the ecological mystery.
John Ochieng', chairperson of Uwaria Beach Management Unit (BMU), recalls the good times when the beach was a good source of revenue for Siaya County.
Mr Ochieng' says businesses dwindled after fishermen moved to other areas. "Half of the beach's plot was grabbed by water," he says, adding that at least 80 per cent of the beach's catch was tilapia, but which was highly affected by the rising water levels.
For Mary Akinyi, a food vendor at the beach, business has failed to pick up months after the beach was submerged.
"Majority of the customers here are fishermen. With the dwindling earnings, I have to sell them items on credit," says Akinyi.
In Uhanya Beach, the situation is the same, with hundreds of fishermen counting losses caused by the death of thousands of Nile Perch six months ago, and closure of major markets due to Covid-19 pandemic. "Before the mysterious deaths of Nile Perch, our beach was recording not less than 800kg of fish per day. This has since reduced to less than 100kg," explains Ibrahim Wasonga, a BMU official.
But with the rising water levels, Mr Wasonga says, majority of fishermen have opted for alternative fishing systems or businesses.
In the neighbouring Nyenye Beach, the hundreds of fish traders who thronged the beach every morning have reduced.
According to Daniel Odero, a BMU official, there is high demand for fish, but there is no fish to sell. "A trough of fish that used to retail at Sh1,200 early this year is now retailing at Sh2,000 because of the shortage," says Mr Odero.
While the County Government of Siaya has promised to rebuild some of the facilities destroyed by the swelling lake, fishermen are worried over the period it might take to recover.
"Some fishermen abandoned fishing temporarily after the fish started dying. This is a big blow because most of them depended on the lake for survival," says Alfred Ochieng', a BMU official.
Mr Ochieng', a fisherman at Nambo Beach in Bondo Sub-county, says they currently register less than 5kg fish per day.
In the neighbouring Usenge Beach, fishermen say Nile Perch had been their mainstay.
According to Christopher Aura, the Director Fresh Water Systems at Kenya Marine and Fisheries Research Institute, the incident that was caused by change in the water temperatures has normalized.
He did not however give details on period it will take fishermen to get good returns.
Merceline Adhiambo, a fish trader at Lwanda K'Otieno Beach in Rarieda, said she was hit hard by the change. "We've been experiencing low catch but the mysterious death of the fish in the lake left us with huge losses. We have loans to pay but the fish that we depended on isn't available," said Adhiambo.