Over 40 dairy goats die after being vaccinated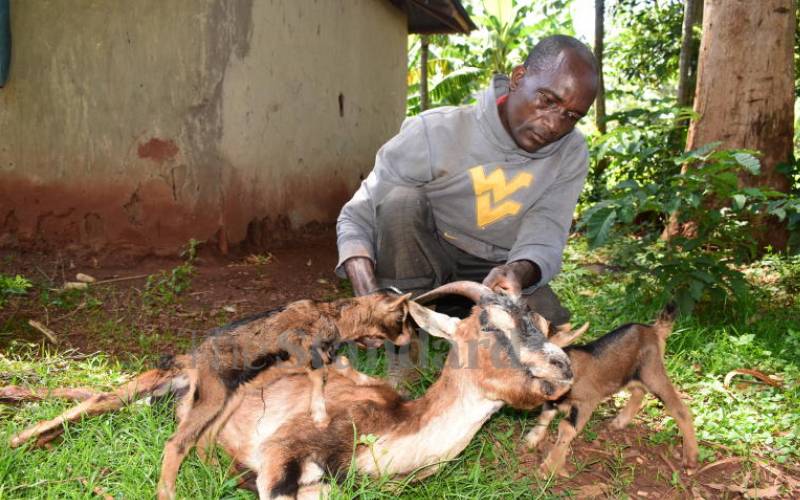 Farmers are counting losses following the death of at least 40 goats in a span of two weeks.
Residents claim the goats started dying days after they were vaccinated against a lumpy skin disease that had hit Busia.
The vaccination drive was rolled out by the county government.
Andrew Ouma, 47, from Bulanda village watched as one of his goats collapsed and died.
Together with his brother, Ouma administered water mixed with glucose to the ailing goats, hoping to save their lives. But, they didn't survive.
"I regret why I took my animals for vaccination. They started developing boils just three days after the vaccine was administered. They also started limping and then they stopped feeding. One of the goats that was due in two weeks miscarried," Ouma said.
Ouma bought the doe at Sh25,000 and the buck at Sh15,000 and was hoping to make profits.
"I was expecting the doe to start giving me at least six litres of milk every day, unfortunately, she developed complications after receiving the vaccine and died," he said.
He claims that after the vaccination, he also noticed his cows' milk production dropped from 8- 12 litres to a paltry four litres every day.
"I took my goats and cows for vaccination after an outbreak of the lumpy skin and foot and mouth disease. The county government urged farmers to have their livestock vaccinated," he said.
The exercise targeted cattle, goats and sheep and the vaccines were administered between September 28 and October 3, this year.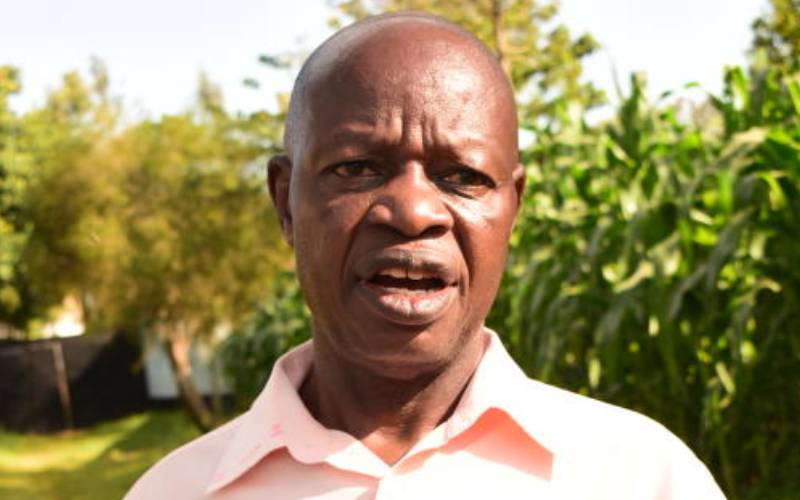 Farmers raised an alarm when they started losing their animals days after the vaccination drive. The claim so far, at least 40 dairy goats have died, while 53 others are in a critical condition.
David Akhonya, a member of Bebea Self-Help Group, said the most affected goats were the Alpine, Toggenburg and Saanen breeds. Akhonya lost two goats.
"Most farmers are counting losses. It is sad. On a good day, a farmer would sell goat milk for between Sh120-Sh160 a litre. This is no longer the case," he said.
Sam Ikwaye from Bulanda village lost his buck, which he had bought at Sh25,000.
"The buck developed complications after a county official administered the vaccine. It exhibited symptoms including diarrhoea and lack of appetite. My other does are ailing, my fear is that I could lose all of them," said Ikwaye.
He said they are not sure of the exact vaccines that were being administered, but since it was the county handling it, they were confident.
"A lot of money is allocated annually to the agriculture department but we don't get any support from the county government. This was the first effort, to offer vaccinations, and the experience is heartbreaking," said the farmer.
However, Busia County Director of Veterinary Services Dr Allan Ogendo insisted that only nine goats had died after the vaccination.
"It is not a crisis. We have assessed the situation and taken appropriate measures. We shall compensate the farmers," said Dr Ogendo.
Busia County Executive Committee Member in charge of Agriculture, Dr Moses Osia said he was not aware of the issue, promising to investigate the matter.