I have the formula to win the presidency next year, says Wanjigi in Raila turf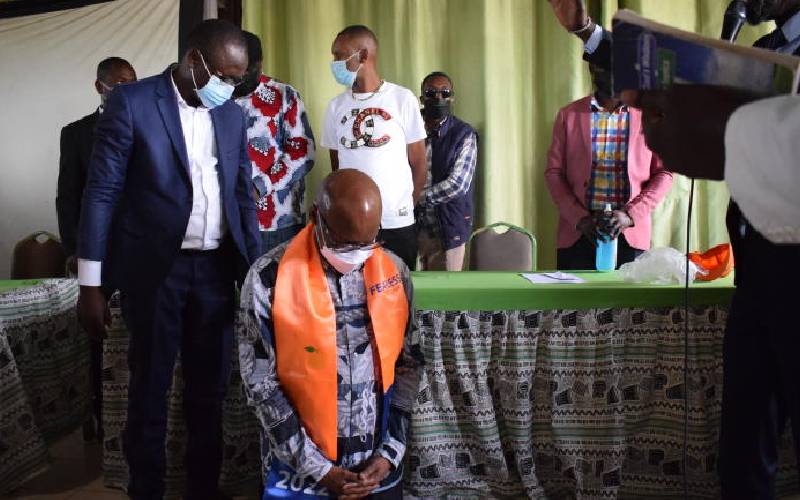 Businessman Jimmi Wanjigi claims he has the formula to win the presidency in next years elections after supporting President Uhuru Kenyatta and ODM leader Raila Odinga in their previous bids in 2013 and 2017.
He, however, remains aloof on whether he will execute the strategy for the 2022 presidential race or he will cede ground in favour of another presidential hopeful.
Wanjigi is eyeing the ODM party's presidential ticket with governors Wycliffe Oparanya (Kakamega) and Hassan Joho (Mombasa), and has petitioned party Secretary General Edwin Sifuna to consider his application.
Raila, who is yet to officially declare his interest to run for the presidency, but has hit the road on the platform of Azimio la Umoja, will now face off with Wanjigi, Joho and Oparanya for the party ticket in the primaries.
Yesterday, Wanjigi challenged the ODM National Elections Board (NEB) board to conduct free and fair primaries to enhance democracy.
"We want our party to conduct credible nominations because that is one of the parameters which will enable ODM win the presidency in the forthcoming election," Wanjigi said.
He said his desire to compete with Raila in the race has no ill intentions but it is a way of utilising his democratic right. "Raila is my friend and this contest will not divide us," he added.
For Wanjigi, it is still not clear if he is planning to go the full hog but his inroads in Nyanza region, Raila's backyard raises questions on what he is up to and his end game in the presidential quest.
He has adopted the title Jabari, a Swahili word for brave one and the slogan 'Fagia Wote' which means sweep all of them.
Wanjigi says his candidature calls on the state to mainstream economic rights. He has also cast doubt on political cooperation between President Kenyatta and Raila on the direction Mt Kenya region should take.
While touring Homa Bay County, Wanjigi faulted President Kenyatta for not introducing Raila to voters in Mt Kenya.
"There is doubt in the political cooperation between the two leaders. I believe Uhuru should have begun traversing Mt Kenya with Raila immediately after the handshake. But it is unfortunate he has not done so," Wanjigi said.
He said a few leaders in Mt Kenya had traversed the region and tainted Raila's name with aim of creating voter apathy against him.
He urged the president to walk with Raila in Mt Kenya to change the narrative. "A few leaders propagated political propaganda about Raila to the people of Mt Kenya. In my opinion, such leaders who did so should walk with him in the region to recant what they had said about him to demonstrate true political friendship," he added.
Wanjigi argued that the President should have shown Raila the true political love in his succession plan.
He argued that political betrayal had been overtaken by events hence people should say the truth.
"On one hand, someone is calling Raila my brother. Why hasn't he walked with Raila in Central to change the mindset of the people against lies which had been propagated him? We need to speak the truth because time for political betrayal has been overtaken by events," Wanjigi added.
In his tour of Nyanza, Wanjigi made his intentions known; restore order in ODM party, strengthen it and market his candidature.
"Kenyans need a big and better Kenya. It is my resolve that we have a bigger cake to accommodate all Kenyans. My interest is not to have the cake for myself but to uplift the poor," said Wanjigi.
Another concern is whether Raila will support Wanjigi if he beats him in the ODM primaries.
Secondly is whether he will be the first person to unite Mt Kenya and Lake Victoria.
Wanjigi is said to be wealthy and can match any politician's shilling for a shilling.
The businessman has, however, been accused of opening parallel party offices in Central Kenya and rocking ODM from within. But there is no doubt that he received warm reception in Nyanza by ODM delegates.
There are also concerns within the party of his real interest; meeting delegates across the country and creating space for himself.
For the first time, Kenyans are talking about Wanjigi even as some political pundits argue he could be preparing himself to take up the position of Raila's running mate.
Ten days ago, he called on Sifuna to conduct party elections as soon as possible.
He also demanded a list of special groups' representatives from all counties who will attend the National Delegates Conference, confirmation of delegates' conference timelines, timing and mechanisms for party primaries across all levels and any other activities the party intends to have.
"I have been seeing media reports that ODM party officials will be selected by consensus, this is a gross violation of the party constitution. It is vague, improper, and unclear."
His latest moves could be giving problems to some party individuals; a question on whether Wanjigi can sway ODM supporters to his side.
With the perception that he has resources, there are fears within the party that he could be able to have a more organised team of officials at the grassroots. The talk about the existence of a parallel aspirants' list will also give headache to some party leaders.
In the past, ODM party officials have admitted that the party may have failed to clinch some elective seats for lack of free and fair nominations.
Wanjigi argues that Kenya needs fresh blood of politicians who can transform the economy and that long serving politicians should give way in 2022.
"The only way to save this country is to wipe the old guards from the political arena and pave way fresh blood," he added.
Wanjigi also told locals to shun ethnicity on who should become the next president next year.