Nyong'o steps up bid to relocate 'hill of shame' Kachok dumpsite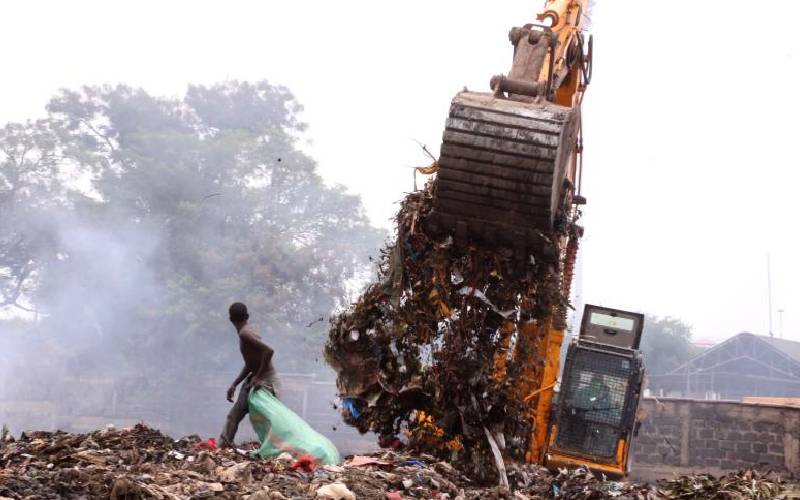 The infamous Kachok dumpsite will soon be a thing of the past as Governor Anyang' Nyong'o's administration finalises plans for an alternative dumpsite.
According to Prof Nyong'o, construction of the new waste management facility in Muhoroni is 60 per cent complete and will solve the garbage nightmare the county has faced for decades.
Already, the county government has completed the construction of a new access road to the new site in Kasese
Removing the Kachok dumpsite has been tedious for the authorities as waste continues to pile up despite efforts to decommission it.
For years, residents have had to put up with choking smell from the dumpsite. Insecurity around the dumpsite has also been rife.
The dumpsite has been at the centre of controversies as leaders and locals opposed to the relocation engaged the county government in battles in and out of court.
At the weekend, the governor said the relocation process is on the right track.
"With the roads done and the site fenced, we are 60 per cent done. What is remaining now is to put up the facility that will process waste into energy," said Nyong'o.
The governor noted that construction of a facility that will turn waste into energy will be beneficial to locals.
"Environmental Impact Assessment had been done on the new site and work is progressing on well," said the governor.
When he came into office in 2017, Nyong'o prioritised relocation of the dumpsite in his strategy for the county, and partially relocated the dumpsite and turned the space into a botanical park.
This, however, did not solve the problem as piles of waste continued to grow in the other half that had not yet been relocated.
Kisumu produces about 300 tonnes of waste every day with most of the waste ending up at Kachok dumpsite, according to county officials.
Relocating the dumpsite would be a major boost for Nyong'o's political ambitions.
It will curb the health hazards traders at a new market next to Kachok dumpsite face.
Sporting activities at the nearby Moi Stadium are also adversely affected by the choking smells. And that is not all, some people take advantage of the dumpsite to avoid paying gate fees during football tournaments.
The dumpsite turned into a campaign tool for politicians and was named after several leaders who have made unsuccessful attempts to relocate it.
The dumpsite has gobbled millions of taxpayers' money in the last decade as authorities attempted to find a permanent solution.
In 2018, some Sh97 million was used in an attempt to partially decommission it. And in 2019, another Sh200 million was used to remove part of the waste and transform it into a botanical garden.