Farmers blame harvesting delays on sugar miller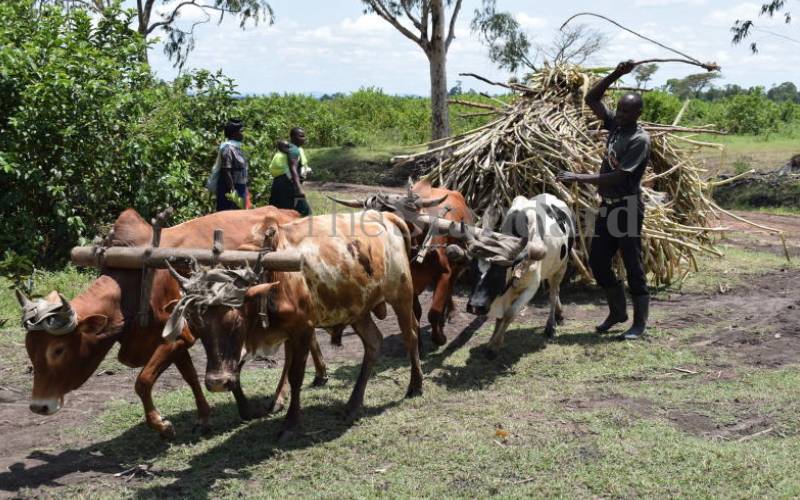 Sugarcane farmers in Ndhiwa, Homa Bay County, have accused a local miller of failing to harvest their crop.
The farmers claimed they entered into an arrangement with Sukari Industries that would see the miller buy cane from them.
Under the Ndhiwa Out-growers Cane Farmers Association, they claimed the company had gone back on the deal, opting to source sugarcane from other regions.
Association secretary Milton Orwe accused the sugar miller of delaying harvesting, leading to massive losses.
"Delayed harvesting of sugarcane makes them lose the sucrose content and weight," said Orwe, who spoke during a meeting convened by Ndhiwa MP Martin Owino at Malela village in Kologi Ward.
The meeting was called to address the challenges farmers are facing.
"Growing sugarcane here is becoming meaningless. We are demoralised. We invest heavily but get little or nothing in the end. Sukari Industries has not been harvesting cane on time. We want this issue addressed," said Orwe who was accompanied by the association's chairman William Oyugi.
The farmers, at the same time, accused the company of reducing the price of sugarcane from Sh4,400 to Sh3,833 per ton. However, the company denied the claim, saying it buys sugarcane at Sh4,040 per ton.
The growers have called on the company to consider opening more outlets to enhance harvesting of sugarcane on time. This, they say, will also reduce the cost of transporting the produce.
"Sugarcane occupies about 70 per cent of land in Ndhiwa, meaning people have embraced the crop. Our main problem is with the miller," Orwe added.
Sukari Industries General Manager David Okoth attributed delayed cane harvesting to poor roads.
Okoth said they plan to increase their crushing capacity from 2,000 to 5,000 tons per day in the next five months.
"We appeal to farmers to be patient. The company does not want to lose the quality of the sugarcane," he said.
Owino said they are working with the Kenya Rural Roads Authority to have local roads improved.
The MP urged the Homa Bay County government to utilise the cess they collect from the miller to improve local roads.