Kisumu estates choke under heaps of garbage as town centre sparkles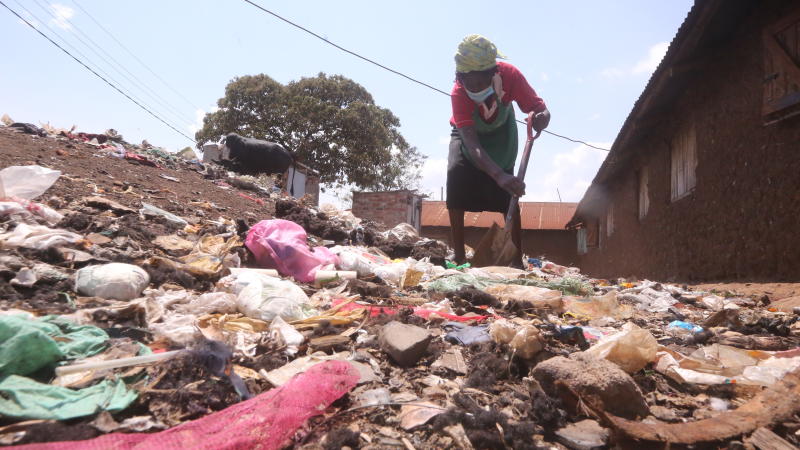 On a bright mid-morning, Benter Jaoko struggles to flap away houseflies from her groceries stall at Kojwang in Nyalenda Estate, Kisumu. Five metres away is a heap of solid waste, which sometimes spreads near her stall as animals and street children scavenge.
This has been her tribulation for the past four years, despite the place not being gazetted as a waste skip.
To reduce the heap to manageable levels, Jaoko once in a while sets fire on the waste.
"Burning them is not the best option, since it is a mixture of solid and liquid waste, which sometimes fails to burn," says the 43-year-old.
Her mud-walled house is 10 metres away, and the waste has spread to below her bedroom window. She is however ignorant of a waste management strategy in the area, and says she often spots people drop all manner of waste at the point.
"I rarely open my window, because the stench is too strong," says the mother of five.
From diapers, kitchen waste, faeces and broken bottles, the place is messy, but the residents have no option. The situation worsens when it rains.
This is however a direct opposite of the situation in the city centre where men and women dressed in reflector jackets sweep the roads daily.
In town, waste trucks make rounds every morning to offload the waste bins along the roads, and within the commercial buildings.
Any newcomer cannot fail to feel the cleanliness within the city, with lots of admiration.
A spot check by The Standard revealed that estates are however grappling with the management of solid and liquid waste.
At Obunga, Odiero Ombwayo says he has written numerous letters to the county government, seeking to have waste management looked into. A sewer line from his home to the main line got blocked a couple of years ago, and liquid waste from his home and the neighbourhood find their way downstream through the surface.
But they have to frequently unblock the way as residents continue to dump trash on the shallow channel transporting the waste.
"A sewer line was constructed not far from here, but its location was not favourable as it is upstream instead of being downstream to allow waste to flow freely into it through gravity," he says.
Up to two years ago, the area had a waste collection container at the border of Obunga and Kanyakwar where residents took their solid waste before being collected by the county waste trucks.
"We just woke up one day and found the container missing. Some people said it was taken away by the county government officials," says Ombwayo.
Residents however continue to dump waste at the point located near a tributary of River Kisat. When it rains, the entire waste is washed into Lake Victoria.
"There are some young men who collect waste from households at a fee, but a majority of the residents here cannot afford to pay for waste disposal if they can't comfortably put food on the table," says Ombwayo.
Along Ring Road, which separates Milimani estate and Nyalenda slum, Bonface Aringo has a bicycle repair point near Mama Safi Hotel.
Five metres away is another illegal waste disposal point where market and domestic waste from Nyalenda Kilo is dumped.
When The Standard caught up with him, Aringo was chasing away some dogs that were scavenging on the waste.
"When the dogs open up the waste, the stench becomes stronger, and that makes me and my clients here uncomfortable," he says.
A spot check along Ring Road revealed many other illegal waste disposal sites where we spotted people dump their waste without blinking.
"Sometimes the county trucks come around, but they only scoop the upper part of the waste, leaving a huge heap here," says Aringo.
The city is still struggling to identify a proper waste management strategy, with Kachok dumpsite, which was set to be decommissioned, continuing to swell with heaps.
In 2014, Africa Waste and Environment Centre (AWMC) reviewed the county's waste management plan and proposed that the city establishes 850 waste collection skips, eight waste holding centres and a dumpsite.
The project was to be funded by the French government through Kisumu Urban Project (KUP), but it did not kick off. A study by AWMC showed that the city produces over 250 tonnes of solid waste per day and only 20 per cent of it is collected, especially within the CBD and in well-to-do estates.
But yesterday, County Director of Communications Alois Ager said the city has realised 35 per cent waste collection, which is targeted to hit up to 60 per cent once the ongoing waste management strategies are operationalised.
Ager admitted that indeed the county was grappling with waste management within the estates due to lack of cooperation from residents.
He said there are plans to build waste recovery centres in three wards; Market Milimani, Manyatta and Railways.
This is to decentralise waste disposal to ensure no waste from one ward crosses to the other ward.
"In this financial year, there is an allocation for five more waste recovery centres, and a waste energy centre, which will sort out the waste issue," said Ager.