Jakoyo's Three Sweethearts: 'You were reassuring, a charmer and real lover'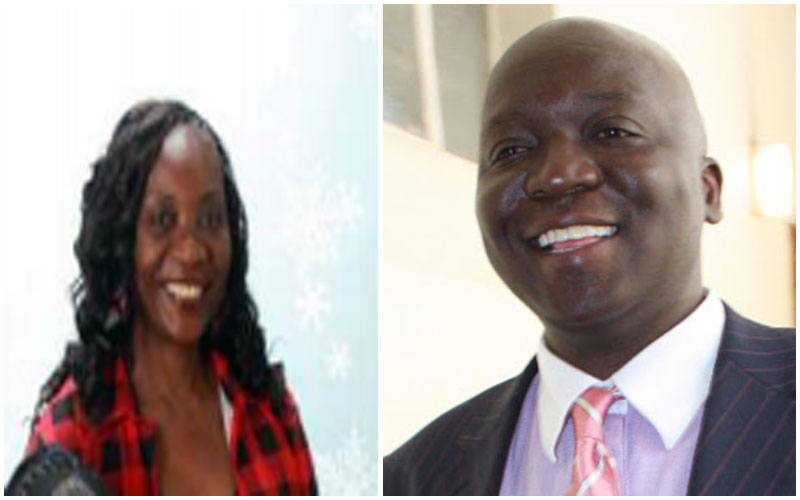 The late former Gem Member of Parliament (MP) Jakoyo Midiwo loved his women and they requited his care, warmth and assurance with equal force and energy.
Jakoyo's three sweethearts are his first wife Betty Muganda, second wife Dr. Rose Olayo and Jackie, the mother of his adult son. There was no record, however, to indicate Jackie was legally married to Jakoyo, but she loved him and he loved her back.
In a heartwarming tribute, Betty said Midiwo's charisma swept her off her feet in 1990, when they met while pursuing tertiary education at the Washington DC in the United States.
"Your joviality and good nature attracted people, including me, the moment you walked into a room. No one could forget your smile. You were a real charmer."
Both Midiwo and Betty were undergraduate students at the Columbia University, where their love blossomed and thereafter culminated in a wedding in August 2000.
"Mzee, you and I were an instant attraction. Right from our first meeting in 1990 in Washington DC when you came to collect the tea leaves that Aoko had sent me with to bring to you. I guess, if it wasn't for Aoko and the tea leaves, we would never have met," recounted Betty.
The mother-of-two said she witnessed Midiwo's excitement peak, when they welcomed their two children, Linda and Sammy.
"You were a doting and caring father. I remember, as new parents, you took great pride taking care of Linda and Sammy, you were extremely delighted," she said.
In her message contained in a 43-page funeral programme booklet, Betty said Midiwo dedicated his Mondays to Fridays to fatherly duties, without fail.
"Saturdays and Sundays were your off days," she said, adding: "You were a very hard-working man. You did everything and anything to ensure that me and our children were provided for all the time. We never lacked anything, never."
Betty said Midiwo's liking for politics often led to a dispute between them, but they would find a way of striking a compromise.
"Your commitment to politics was 101 per cent, and this sometimes would drive me insane because you struggled to balance politics and your family. But politics was your life. You breathed politics and lived for it and I respected that and gave you the necessary space and support where possible," she said.
Betty said they were planning a joint party to celebrate Linda and Sammy's academic milestones when Midiwo suddenly fell ill and died at the Nairobi Hospital, where he had been taken to for treatment.
Linda had graduated from a South African university with an undergraduate degree while Sammy had scored an A (plain) in the 2020 KCSE exam, which he sat for at the Lenana School.
"You have gone before us. We had our share of ups and downs like any couple. I am only left with memories; memories that I will treasure. You have had a full life and lived to the fullest," said Betty.
The late MP's second wife, Dr. Rose Olayo, said she was still in shock following his death.
"They say time heals all wounds, but with your passing I have come to realise that this is not entirely true. I am learning to live a 'new normal' as they say; a normal with the ever-present pain of your absence from my life," said Rose.
In her tribute, Rose described Midiwo as a wise counsellor and charismatic partner.
"Our time together may have been cut short, but the happiness we shared together will last a lifetime. I will always deeply miss our moments of reflections when you would assure me, and give me your positive advice. I will miss our morning walks in the village when we would talk non-stop for three hours as we covered our usual 20 kilometres," said Rose.
Dr. Rose Olayo and Jakoyo Midiwo met in 2006, while travelling to Amsterdam, Netherlands. The two were blessed with a son, Justo Odima, who was born in 2012.
"I will find comfort in the knowledge that you loved me to no end."
Midiwo's third sweetheart, Jackie alias Mama Allan, described Midiwo as a caring partner who always reassured her. Midiwo and Jackie have an adult son together.
"I recall when Allan was graduating with a Masters' degree in 2017, you called him while we were shopping for his graduation suit. You asked to speak to me and your words were: 'you are a good woman'.
"Allan is a special gift that you gave to me and with a little trait of you in him, I – at times – call him OJ (Otada Junior). I will always thank you and remember you through him," said Jackie.
The late Jakoyo Midiwo will be buried on Saturday, June 26, his family said on Wednesday.
The family spokesperson, Dr George Midiwo, said Jakoyo's remains will leave Lee Funeral Home in Nairobi on Saturday morning.
His body will then be transported to Wilson Airport, where it will depart for Kisumu International Airport.
Upon arrival in Kisumu, the body will be transported by road to his home in Mabinju, Gem Constituency.
A funeral mass will be held at 10am at Ndori Primary School, and the burial conducted thereafter at his Mabinju home.
"Jakoyo will be buried where our parents were laid to rest. His burial will be conducted by 1pm. We don't want the programme to drag because Jakoyo was against people crowding at funerals to avoid the spread of Covid-19," said George.
The late legislator's brother said police will be deployed to ensure strict adherence to Covid-19 rules.
"There will be security checkpoints to ensure the crowd is controlled," he said.
Jakoyo Midiwo succumbed to kidney failure on June 14.