More than 2, 295 families affected by floods in Migori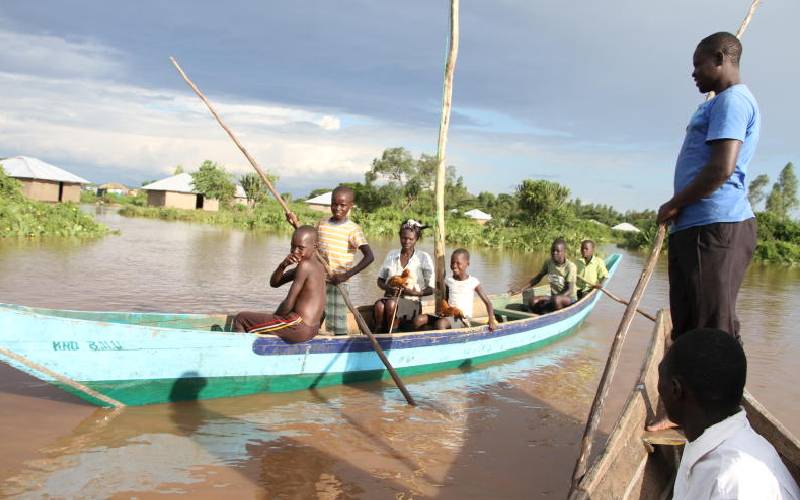 More than 2,200 families in Migori and Homa Bay counties have been displaced by floods following heavy rains.
At Kakelo Kakoth location in Migori County, some 300 homes were submerged on Monday, forcing locals to move to safer grounds.
In Lower Karapolo, 60 households had been marooned by the floods while West Kanyuor location had 99 households affected by the floods.
According to Lower Central Kadem Chief Philip Orwa, areas around Kuja River such as Lwanda and Kuja were also flooded.
Nyor Primary School teachers from Lwanda had to wade through knee-high waters to get to the school. Young pupils skipped school for fear of being carried away by floods.
The school's headteacher Elisha Ondiek noted that learners from Kuja area had a hard time getting to school.
Kabuto Primary School, Nyora Primary School, Angugo Primary School and Molly Secondary School were also among the flooded schools.
Hundreds of families have been displaced in Rachuonyo North due to heavy rains which have pounded Homa Bay County in the last three days.
More than 100 households were displaced in Kogembo sub-location in Rachuonyo North sub-county.
The floods occurred after River Awach broke its banks.
According to Kogembo Assistant Chief Hezekiah Owino, the floods began on Monday night.
Simbi primary and Simbi secondary schools were also flooded.
At Nyapuodi village in Kanam A location in the same sub-county, hundreds of families were affected too.
"At Nyapuodi beach, four houses fell after heavy rains. Our roads are impassable," said George Orimba, a local resident.
In Kobala sub-location in the same sub-county, many families were displaced after their houses were marooned by floods.
In Ndhiwa sub-county, hundreds of families were affected by floods after River Kuja broke its banks.
Residents have appealed to government agencies for humanitarian aid.
"We appeal to the government to intervene and rescue us," said John Odiembo, a resident of Ndhiwa.
Meanwhile, farm produce worth millions of shillings has been destroyed in Naivasha due to heavy rains.
The most affected is Mirera estate off the Naivasha-Mai Mahiu road.
The road between Mirera and Karagita was completely flooded, forcing motorists to seek alternatives routes.
Also rendered impassable was the road linking Kijabe Mission Hospital to Moi South Lake.
According to Njoki Nyanjui, one of the affected farmers, the flooding started on Sunday following heavy rains in the upper catchment area.
She said the waters had flooded their farms and roads, leaving a trail of destruction.
Njoki called on the county government to address the issue of drainage, terming it a major challenge facing the area.
According to a message sent by the Red Cross, there were indications that the ongoing rains could cause more floods in the region.
By Anne Atieno, James Omoro and Antony Gitonga