Stop using Otiende's ouster to divide ODM, Kaluma warns party opponents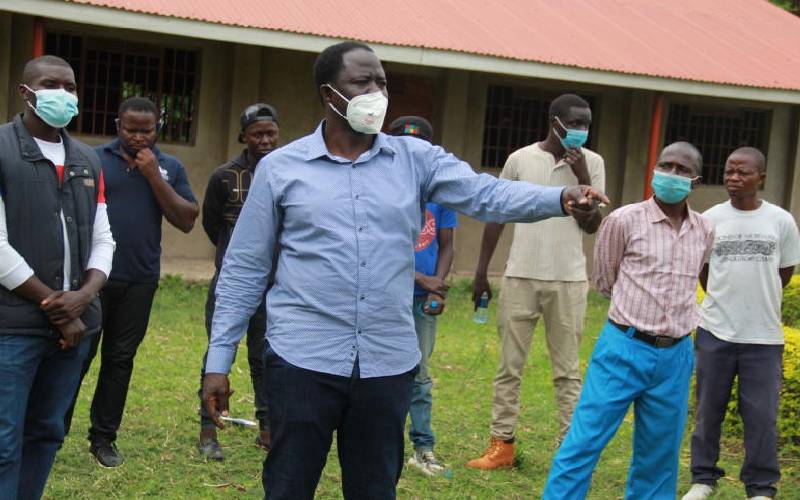 Homa Bay Town MP Peter Kaluma on Sunday, May 9 accused ODM political enemies of using the recent removal of Rarieda MP Otiende Amollo from a parliamentary committee to divide the party.
Speaking at Ogande Girls High School when he supervised the implementation of development projects by the NG-CDF in his constituency, Kaluma accused ODM opponents of blowing the matter out of proportion to taint the party's image.
"There are people who take advantage of Otiende's removal to create unnecessary division in the party. They invoke issues which never existed between the MP and the ODM party leadership," Kaluma said.
Kaluma said it was wrong to blame ODM because of making changes in a parliamentary committee, adding that such changes were normal procedures.
"It is normal for a political party to change its members in a parliamentary committee hence the recent change in JLAC should not be an issue," he said.
Kaluma said Otiende's removal should not be misunderstood to be punishment by ODM as some people are trying to portray it.
He said Otiende still wields membership of the powerful Public Accounts Committee (PAC) committee in Parliament.
He said Rarieda MP should have been removed from the PAC if ODM had issues with him.
"If ODM leader Raila Odinga was in Parliament, he would be the one chairing PAC committee because this is a highly valued committee headed by an opposition leader. But Otiende's membership in the committee means ODM values him," Kaluma said.
The MP told ODM supporters and residents of Nyanza region where Otiende hails from to be wary of the enemies.
"The enemies are out to divide us as a party and as a community but let us stand firm to withstand their dirty plans," Kaluma said.
Otiende was recently removed from the vice-chairmanship of the Justice and Legal Affairs Committee (JLAC) in the National Assembly and replaced by Ruaraka MP Tom Kajwang' over his stance on the Building Bridges Initiative Bill.
Prepare for referendum
He told Nyanza residents to be ready for a referendum after the Building Bridges Initiative (BBI) Constitutional Amendment Bill 2020 was approved by parliament.
He said time had come for Kenyans to have a new Constitution.
"We are soon going to start campaigns because we are likely to hold the referendum in August this year. Let our people be ready," Kaluma said.
He said the Bill will help fight corruption by compelling the Judiciary to conclude graft cases within a period of one year after being filed.