ODM's Matara wins Kiamokama Ward by-election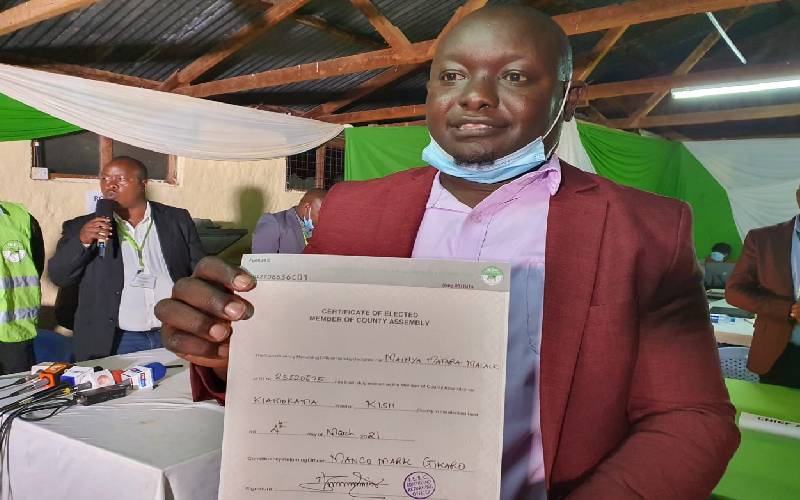 Malachi Matara of ODM won the Kiamokama Ward by-election on Thursday with a resounding victory.
ODM retained the seat with 1,907 votes defeating Daniel Ondabu of the Party of Economic Development (PED) who garnered 1,257. Stephen Nyakeriga of TND came distance third with 1,004 votes.
Matara (pictured) will serve the people of Kiamokama for 16 months taking over from the late Kennedy Mainye who died of Covid-19 related complications.
Matara thanked his voters for overwhelmingly supporting him. "I will work closely with all my competitors. A big thanks to my party."
He said the big margin in terms of votes was a testimony that the region has is in the Orang party.
Kisii Governor James Ongwae said the people of Kiamokama have spoken.
"We spoke to the people during the campaigns and they heeded our call. I am now ready to hand over my 'acting MCA' role to a man whom I am sure will carry the peoples' agenda to the next level."
Ongwae thanked the ODM team and all their supporters for re-affirming that it remains the party of choice in Kisii.
"We have some people loitering here pretending that they change the political influence; they have failed and will a more humiliating defeat in any election to come."
He said ODM had spent a good time in preparing in the past years and shown locals that they can indeed deliver.
Senator Prof Sam Ongeri also thanked locals for showing respect to the rule of law.
"The future is all about the handshake. We are ready to show our people on the right political path."
"This is the true definition of how the handshake should be working. We thank the President and the former Prime Minister for showing us the way."
Women Representative Janet Ongera said Kisii region will always vote for leaders who have sworn to uphold integrity. "ODM has a vision for this country. We have shown the party leader in the direction we are to take in the 2022 elections."
She said ODM will not abandon all those grassroots leaders who have shown a commitment to the party. "Our target is to have the party leader ascend to power. This region will give up the support.'
The by-election attracted 11 candidates. The Ward has 10, 538 registered voters and 22 polling stations.
UDA candidate Nyandusi Nyakeramba who had been seen as a front runner during the campaigns came a distant six with 491 votes translating to eight per cent of the total cast votes.