From his children's eyes: Simeon Nyachae, the hardworking family man
Simeon Nyachae's children have eulogised their late father as a hardworking family man, who was disciplined in his ways and a lover of music.
"Dad was a hardworking man. The hardest working man I've ever known. He's someone that we all, as his children, try to emulate," said his son Moses Nyachae.
During the early 80s while in primary school, Moses remembers that they all had to be ready to leave the house with their father at 6:45am.
"We would go with him to the office of the president and then proceed to St Mary's School," Moses said.
Moses painted a picture of the fit, playful, family man and father figure that was Simeon Nyachae.
"Dad was a fitness fanatic. After work, whenever we finished our homework, we would go out and play together," he said.
"Dinner time was family time," he added. "If guests wanted to stay for dinner, they were welcome, but dad didn't go out in the evenings."
"Dad would come home at 4:30pm and we would go for a ride. He would play his beautiful music – Kenny Rogers- as he drove us around in Nyeri and Nakuru," said Angela. "Dad was always there at supper time, which is a very rare thing these days. Dad never missed supper with us."
Angela said her father cared about how they lived and related with each other. Whenever there was a problem, he would call them all and advise them on how to handle it. He also held their opinions with high regard.
"Dad loved his girls. He never treated us differently," Angela said.
He was a fair man. All the children were disciplined equally.
"He instilled discipline in us and he didn't favour anyone, whether you are a boy or a girl," Mary said.
"He taught us to work hard, he taught us to be honest. Whatever job you do, do it like it is your own work," she said.
On grooming, Mary said their father taught them to be well groomed at all times.
"If you were not groomed, especially when we were going out even if it was for a drive to Mt Kenya Safari Club during our days in Nyeri, you would have to go back and dress properly," she said.
"He always dressed sharply. Clean-shaven. That's who my father was!" Mike remembered.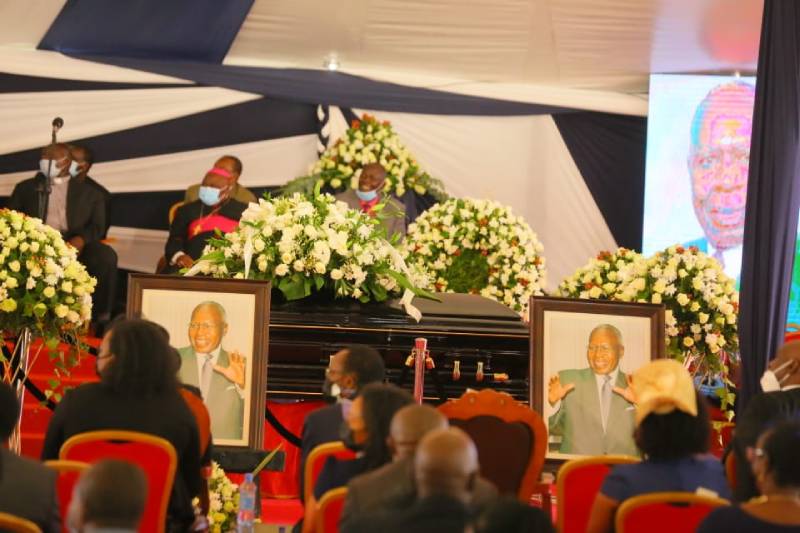 As a polygamous man, Angela said her father loved their mums equally and he took care of all of them likewise.
"That was very important to us as children. When a child does not see love towards their mother, they may have a problem with their father. But our father loved our mothers equally.
Grace Nyachae, Simeon Nyachae's wife, who urged her children to remain united as a family, called on men to invest in their wives.
"He invested so much in us… He invested in me and loved me. When time came for me to look after him, I had no reservations. I was ready to look after him." she said.
Simeon's son Mike remembered him as a prayerful man. His father said he had been blessed through prayer and if his children wanted similar blessings, they were to pray as well.
"Our father believed in prayer. We would not have a meal, travel abroad or even go to bed without a prayer. He made that a virtue for all of us," said Mike.
Angela Nyachae described her father as a spiritual man. Whenever they visited him, they wouldn't leave the house without a prayer. He loved two songs; He Leadeth me and Amazing Grace.
"With him, the discussion was always biblical. My father knew the bible inside-out… These are the songs that will ring in my head until resurrection morning when we will meet again," Angela said.
According to Kenneth, Kenny Rogers and Charley Pride, were his father's favourite musicians and he often played their music.
Mike noted that one of his father's favourite songs was The Gambler by Kenny Rogers, and his life was a reflection of its words.
"Dad had amazing financial discipline and he never gambled with anything … that was one for his favourite songs," he said.
Mary shared the same love for music.
"I was always the one he sent to purchase the music especially during Christmas Time," Mary said.
The late Simeon was a lover of cars.
Mike remembered his father's long drives upcountry, his love for speed and beautiful cars, noting that even President Uhuru Kenyatta admired one or two in his time.
"On my 21st birthday, my gift was a car. Every girl here can attest that when they left home they each got a vehicle. Dad knew that they needed to move around … That was very special," Mary said.
His grandchildren said of their 'Sokoro' (Abagusii term for grandfather), "He was the same man in public and in private."
Mary said the late Simeon went about his life and duties without fear or favour.
"He was very brave, he always told us 'Hapana ogopa (don't be afraid). You only live once!" she said. "One of the bravest moments was when he was very sick, I wanted to break down and he would say, 'God loves us, God knows what the end will be.' I felt very encouraged." Said Mary.
"Please rest in peace knowing that we will not let you down," said Moses.
Nyachae joined politics in 1992 and served as Nyaribari Chache MP for 15 years. He contested the presidency in 2002 on a Ford-Kenya ticket. He finished third after Kibaki and Uhuru Kenyatta.
He died on February 1, aged 88. His family confirmed he was diagnosed with cancer in 2012 and received treatment in Kenya and the UK.