Matiang'i looks to fill void left by Nyachae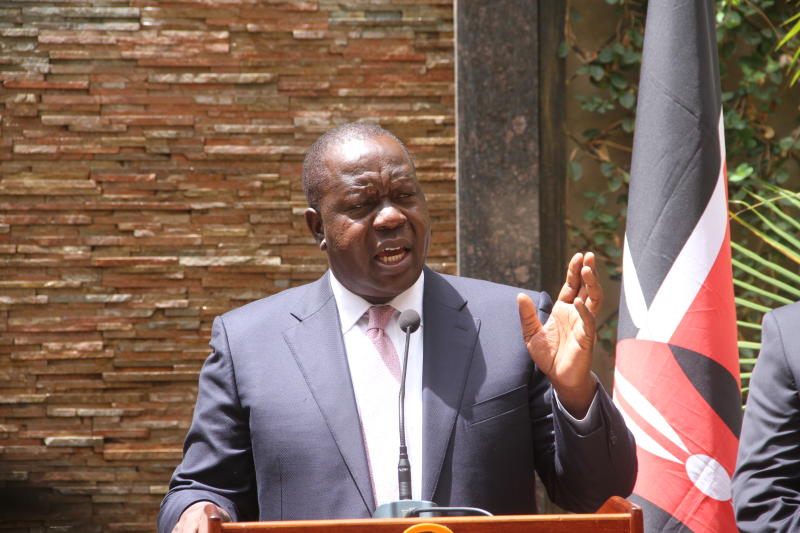 Veteran politician Simeon Nyachae's legacy is likely to continue shaping Gusii politics, as the leaders he mentored continue to show signs of walking in his footsteps.
His style of politics, which was characterised by firmness and fearlessness, has been adopted by his students and his influence cannot be wished away anytime soon.
Nyachae's political clout propelled him to the national arena and he remains the only leader from Gusiiland to take a shot at the presidency.
One politician who appears to have closely studied the veteran's handbook on politics and leadership, and has borrowed a similar style of managing public affairs, Cabinet Secretary for Interior and Coordination of National Government Fred Matiang'i.
In his journey to becoming one of the most trusted individuals in President Uhuru Kenyatta's government, as well as an influential politician in Gusii, Dr Matiang'i drank deep at the fountain that was Nyachae.
The Interior CS eulogised Nyachae thus: "I am devastated. Mzee Simeon Nyachae was many things to many people, but he was my mentor, role model and, foremost, teacher, an accomplished administrator, endowed counsellor and pillar of leadership. I will miss him in a very personal way."
Between 1997 and 2002, Matiang'i worked as Nyachae's secretary. This close relationship exposed him to his mentor's leadership and administrative skills.
He was effectively Nyachae's right-hand man and was actively involved in all official and political activities in the period leading up to the 2002 General Election.
Arguably, Matiang'i, just like his teacher, has become adept at striking a balance between public service and politics, while rallying the Gusii community to speak with one voice.
Nyachae, the son of colonial chief Musa Nyandusi, served under Presidents Jomo Kenyatta, Daniel arap Moi, and Mwai Kibaki's governments.
In his heyday, he was a no-nonsense civil servant, as he went about executing his duties.
He developed a reputation as a tough politician, who did not mince his words, and would even tell off fellow ministers serving with him in the Cabinet.
The veteran instilled these skills in Matiang'i and they have served him well, as he has risen up the ranks in the civil service to become one of the President's most trusted Cabinet members.
Since 2013, Matiang'i has served in several dockets. He shot to the limelight after he was appointed to head the Information, Communication and Technology docket during President Kenyatta's first term.
Matiang'i gained a reputation as a serious-minded minister because of his workaholic nature. He earned nationwide admiration after bringing an end to rampant cheating that stained the national examinations and threatened to derail the country's educational goals.
He later acquired the tag of 'Super CS' after President Kenyatta tasked him with chairing the powerful National Development Implementation and Communication Cabinet Committee, which is charged with the monitoring and implementation of all development projects.
By being at the heart of crucial Executive decisions, Matiang'i has endeared himself to leaders from Gusiiland. There have been suggestions that he should be handed the baton of the region's political leadership.
While he has not publicly stated what his next political step will be, he has been vocal about events happening back at home.
Some people believe Matiang'i is already following in the footsteps of Nyachae with a view to taking a stab at the presidency after consolidating the Gusii vote, as Nyachae did in 2002.