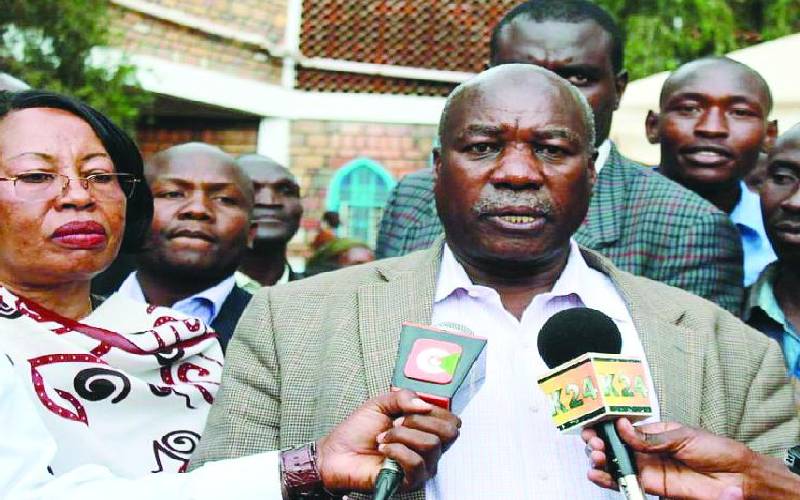 Nyamira MCAs are expected to approve or reject James Gesami's appointment as deputy governor.
The stakes are high as the county assembly sits today to seal Gesami's fate.
A political duel between clans is fast taking shape, with today's business expected to be a culmination of two weeks of intense lobbying for and against Gesami.
Gesami (pictured), who is from Bogichora clan, is viewed by his detractors as a potential spoiler for some politicians who are yet to come out openly to fight him.
Read More
Intense lobbying
Behind-the-scene lobbying against Gesami is being championed by some bigwigs from the Orange House, the headquarters of the Orange Democratic Movement Party, in collaboration with some local MPs.
Those against Gesami's appointment are said to be lobbying for his rejection by Members of County Assembly. Governor Amos Nyaribo appointed Gesami as his deputy early this month.
Today, the report from the Appointments Committee will be made public on the floor of the House where the fate of the nominee will be determined.
The committee is chaired by Speaker Moffat Teya alongside Majority Leader Calen Atuya (Bokeira Ward), Alfayo Ngeresa (Mekene) and nominated MCAs Monica Mwamba and George Mosiori.
During Gesami's vetting, on Friday last week, a member of the vetting panel is reported to have exchanged with an insider from Orange House over the nominee's membership.
The five-member Appointment Committee had raised questions on the matter.