Firm empowers women in bid to fight sex for fish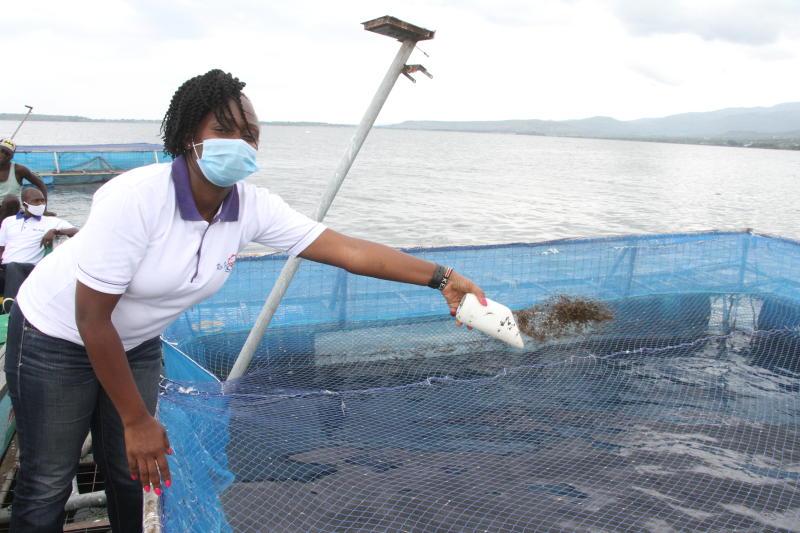 Dwindling fish stocks in Lake Victoria and the practice of sex for fish pushed a group to start cage farming at Rasira Beach near the border of Homa Bay and Migori counties
Angela Odero, Nickson Shikuku and Brian Mino used their savings to start Rio Fish Limited to save women who were dependent on fishermen who demanded sex in exchange for fish.
This has led to an increase in HIV/Aids cases in Homa Bay County which is currently leads with the highest infection rate of 25 per cent.
Ms Odera, Mr Shikuku and Mr Mino who are directors of the firm put together Sh5 million to start the venture.
They embarked on fish cage farming in 2014 with 10 metallic cages at the beach and got three employees to manage them.
"We came up with the idea long before we engaged into fish farming. We started it as a basic fish cage farm. I was just taken aback by the few fish stocks we had in the past 10 years and how people were struggling to get fish," Odera says.
Tear nets and steal fish
She adds: "To get fish, you had to book three days in advance. When we asked the women who sold fish, they kept saying there was no fish in the lake. We also realised that sex for fish was being practiced at the lake. Fish was mainly for the women who were willing to give their bodies."
Odera explains that initially fishermen from the Beach Management Unit (BMU) would tear their nets and steal fish.
"We had to engage the BMU a few months into the start of the project," she says.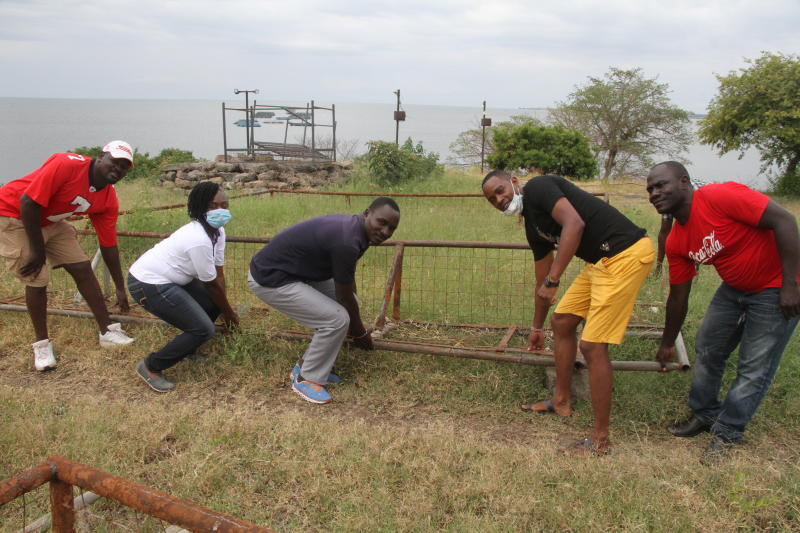 During the first two years, the trio made losses of up to Sh10 million but this did not dampen their spirits.
"We started off on a very high note and with a lot of expectations but we faced many challenges. Production costs were high because we were using expensive feeds. We made huge losses and theft cost us about Sh6 million," Odera says.
In the third year business started picking up and they made about Sh300,000 from the first stock from one cage and profits grew to Sh350,000 in the next harvest.
"The small money we were getting from the fish cage business motivated us to push harder," she says.
To control the theft, they engaged the nearest BMU leadership and their members and had patrol boats throughout night on the lake. The trio also invested in security guards and CCTVs.
In 2017, they realised that the metallic cages were breaking when hit by waves. They decided to import plastic-piped cages in 2018 from China at a cost of Sh20 million.
"The plastic cages are more environment friendly and don't break when hit by waves," she says.
However, the mother of three says they still use the metallic cages which have a capacity of 5,000 fish while the plastic cages have a capacity of 35,000 fish each.
The group rears mono-sex tilapia fingerlings which are 90 per cent male.
Odera explains that the male fingerlings mature early with proper feeding and are heavy compared to the female.
"The fingerlings have to be sex reversed. We buy 0.5 to one gram fingerlings which are 90 per cent male fingerlings which take six to seven months to be 500 to 600 grams when they mature," she says.
The trio partnered with Liquid Telkom where a mast and a sensor was placed in the water to help determine when and how much to feed the fish.
"This helps you monitor the temperature of the water and the right time to feed your fish. The temperature has to be right for you to feed your fish," she notes.
The fingerlings are fed up to eight times a day in the first two months and thereafter three times a day.
The group also created an application dubbed Rio Fish App which links the input suppliers to the farmers and to the traders and consumers.
As a farmer, you can purchase your fingerlings by using the app and buy fish as a customer, with the free to use app.
Odera, who mostly feeds the fish, faces ridicule from men who believe its taboo for women to go to the lake.
Luo Council of elders chairman Willis Otondi says its taboo in the Luo culture for a woman to go to the lake on a boat to fetch fish.
"It is the men who go fishing. The community believes that when a woman boards a boat and goes to the lake, the boat will sink or capsise," Mzee Otondi says.
Initially Odera was criticised by fishermen and her colleagues were warned against going with her on the boat for fear that it would capsize.
"I would be summoned to a series of barazas and men criticised me for going into the lake to feed fish. When I addressed the barazas, men would start walking away saying that they could not listen to a woman who went against their culture," she states.
However, she says, the community is slowly embracing the fact that women can also venture in fish farming in the lake and boats cannot capsise when they board them.
To reduce sex for fish along the beaches, the trio encourage women to engage in fish farming.
Odera, Shikuku and Mino issued the women with cages and opted to have them work with men because of the taboo around women going to the lake.
"When they have their own cages they can engage in fish farming. We have men rowing the boat while the women feed the fish as they are gentle. The physical and heavy work is done by the men while women focus on feeding the fish," Shikuku states.
Currently, Odera says, fish stocks have increased and most are no longer dependent on fishermen.
"We are giving them technical support. We are helping them in keeping profitable enterprises that can give them back their money so that they can repay their loans and succeed in business," he says.
Today, Rio Fish has 11 staff, 21 metallic cages and 10 plastic cages, and the group makes an average of Sh1.5 million per cage, per cycle.
They sell some of the fish to Opapo Fish Processing plant which was leased to them by Migori County government at Opapo, Rongo Sub-County in Migori County.
At the fish processing plant, they aggregate fish from Nyamira, Migori, Kisii and Homa Bay counties and then sell them to consumers and traders.
They buy fish from around 60 fish farmers and place them in coolers at the processing plant.
After the Covid-19 outbreak in the country, initially, many people avoided buying fish from their cages and they outgrew their ideal weight of 500-600 grams.
Currently demand for fish is high and clients like the big fish.
"The big fish brought to us huge profit," Odera says.
Odera, Shikuku and Mino donated five fish cages to youth and women groups last week.
"Once you know how to work it through, there is money," Odera says.