State now initiates workshop on cross-border trade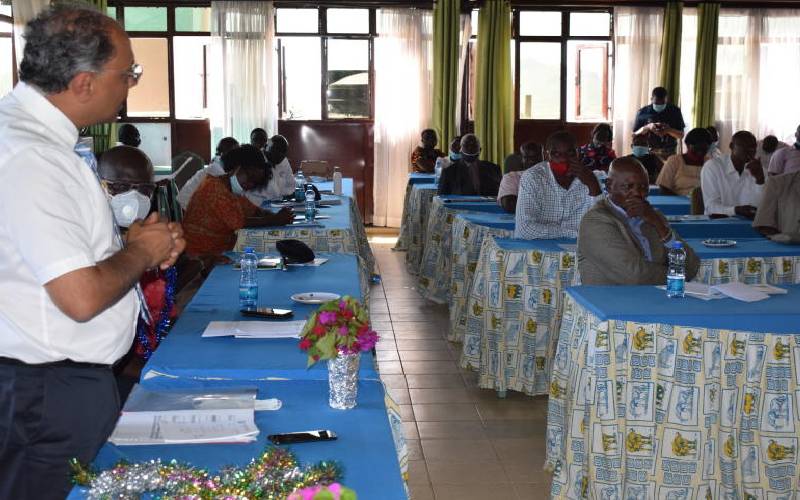 The Government has started training traders in border counties to promote Cross-border trade among East African Community (EAC) member states.
The training according to the government is aimed at addressing lack of information which is one of the impediments to inter-country trade.
The Government is currently training more than 60 focal persons representing various business groups in Homa Bay County to achieve the objective.
Speaking during one of the training in Homa Bay town, East African Community Principal Secretary Kevit Desai said the main obstacle which impedes EAC cross-border trade is lack of information by Kenyan traders.
He cited lack of awareness on goods and services allowed by each country, standards and certifications required, taxes, import and export laws of each EAC member state.
Desai who was accompanied by Deputy Governor Hamilton Orata said many traders had failed to undertake cross border trade due to lack of such information.
"We realised that there are many traders with interest in exporting or importing goods from an EAC member state but they cannot do it due to lack of information," said Desai.
He said the government is committed to demystifying the obstacles to increase the number of Kenyan traders who want to venture into cross-border trade.
The efforts also include opening more business opportunities and harmonising legal restrictions to enhance freedom in trade.
"The cross-border trade creates markets for a number of goods produced locally," he said.
Orata said the county government's department of trade will continue training more traders on the cross border trade to increase the number that participates in the business and enhance residents' income.
"Cross-border trade is a new opportunity which many business people should explore in this county. This will boost the income of the county residents," said Orata.
Orata said they were in talks with the National Government to create a business hub in Mbita town to enhance cross border trade in Homa Bay County.
Mbita Sub-county borders Uganda through Lake Victoria, giving Homa Bay county residents a good opportunity for participating in cross-border trade.
The EAC member states include Kenya, Uganda, Tanzania, Rwanda, Burundi and South Sudan.