Governor Awiti now bans night vigils ahead of burials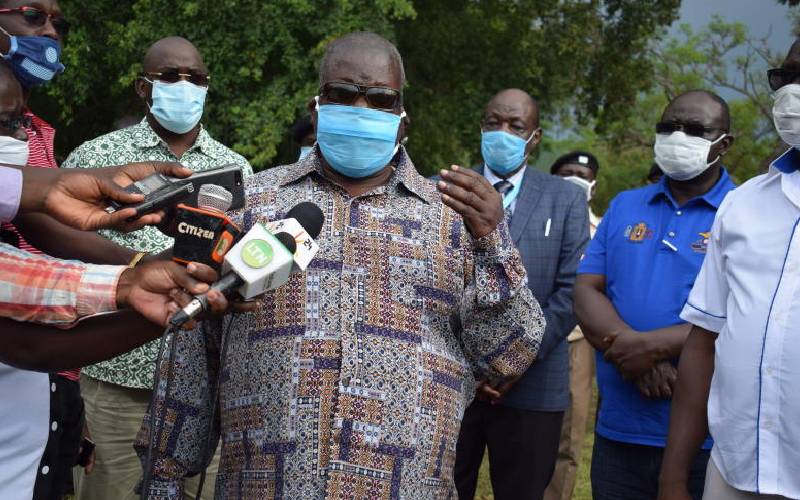 Bereaved families have been barred from holding night vigils ahead of burial ceremonies in Homa Bay county.
Homa Bay Governor Cyprian Awiti said the new regulation has been issued to curb the spread of Covid-19.
Awiti who was accompanied by County Commissioner Moses Lilan said they took the step after it emerged that locals who attend the vigils don't observe health protocols.
"It has been discovered that the residents neither put on mask nor observe the social distance. This predisposes them to risks of contracting covid-19," the two said while issuing a press statement.
It is a norm that families and relatives hold night vigils at home a day before the deceased person's body is buried.
The County Covid-19 Emergency Committee resolved to terminate any gatherings around dead bodies at night.
This means a bereaved family that removes a body from a mortuary must bury it the same day.
A family that does not wish to take their deceased person to a mortuary must bury the body within 24 hours after death.
"A body will have to be interred the same day it arrives in the home compound. There will be no night vigil for any funeral," the statement read.
The leaders resolved that they will not allow more than 200 people to attend any funeral.
Hall meetings
Only meetings conducted within a hall or meeting room will be allowed and will be conducted with not more than one third of the capacity of the meeting place.
The National Government Administration and security Officers from the Village level in every corner of the County will ensure the above regulations are adhered to.
So far, 722 people have been arrested in the County for failing to comply with covid-19 protocols.
They urged residents to put on masks, wash hands and observe social distance to protect themselves from the virus.
The county currently has 200 cases of covid-19.