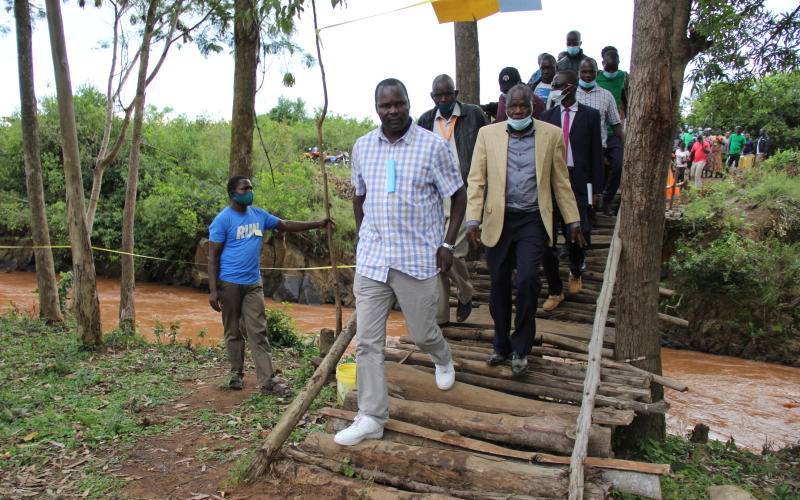 More than 5,000 residents of Kodera North location in Kasipul constituency have stopped calling for the government to construct a bridge.
For more than a decade, Nyiwir Bridge on River Awach has been a nightmare for the residents.
The bridge made of a single log has caused the deaths of three residents and more than 10 cattle since 2012. The victims fell from the bridge in an attempt to cross the river.
Nyiwir Bridge connects a number of villages in the area to Kalanding Primary, Kalanding Secondary, Nyakiya, Nandi and God Kwach schools.
The bridge also deterred farmers from accessing local markets to sell produce.
Read More
They also struggled to construct the temporary wooden bridge being used currently, but it is equally dangerous.
The deaths, inability to access markets and schools have made them construct a permanent bridge on their own through a fundraiser.
The fundraiser which generated more than Sh705,000 was presided over by Lake Basin Development Authority chairman Odoyo Owidi, former Kasipul MP Oyugi Magwanga and former Homa Bay Trade executive Carelus Ademba.
Owidi said the construction of the permanent bridge will begin soon.
He said they could no longer watch people losing their lives due to the lack of a proper bridge.
The chairman argued that they decided to intervene in the construction even though it is a function of the Homa Bay county government.
"The county government has been in existence for more than seven years but residents have been suffering. We cannot watch them suffering anymore," Owidi said.
The chairman criticised political leaders who did not want the bridge constructed.
"It is sad that pupils fail to go to school in this area during rainy seasons because of this river."
Ademba said the bridge will further improve the economic standards of the residents who will now access the markets.
"We did not want to continue crying for the government over this bridge. Construction of this bridge will enable us to participate in many economic activities," said resident David Ouko.