Two armed robbers lynched after stealing Sh300,000 from M-Pesa agent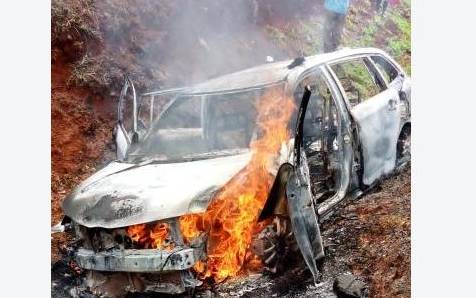 Two suspected armed robbers have been lynched in Homa Bay County for allegedly robbing an M-Pesa agent more than Sh300,000.
The two robbers are among four people who attacked the agent at Basi Village along Kisii- Miruka road in Kasewe Location, Rachuonyo East Sub County on Wednesday.
They were stoned to death by the mob before their bodies were set ablaze. They allegedly robbed a businessman identified as James Achuki.
Initially, the four armed robbers hijacked the M-Pesa agent on a motorcycle along Kisii-Miruka road, armed with a pistol, stopped Achuki before reaching Miruka Trading Centre.
The robbers, who masqueraded as police officers ordered Achuki to alight from a motorbike he had boarded and later ordered him into their saloon car before handcuffing him from behind.
They later snatched more than Sh300,000 from the businessman. The incident occurred after the businessman had withdrawn the money from Kisii Town.
He intended to use the money in his M-Pesa shop
The rider who was carrying the businessman rushed to Miruka Trading Centre and alerted the public who trailed the robbers.
Residents blocked the road ahead of the robbers before pouncing on them when they reached the roadblock.
Two other suspects escaped.
Assistant Chief of Kasewe Sub-location Dickson Samba confirmed the incident, saying the two bodies were moved to Rachuonyo South Sub-County Hospital mortuary.