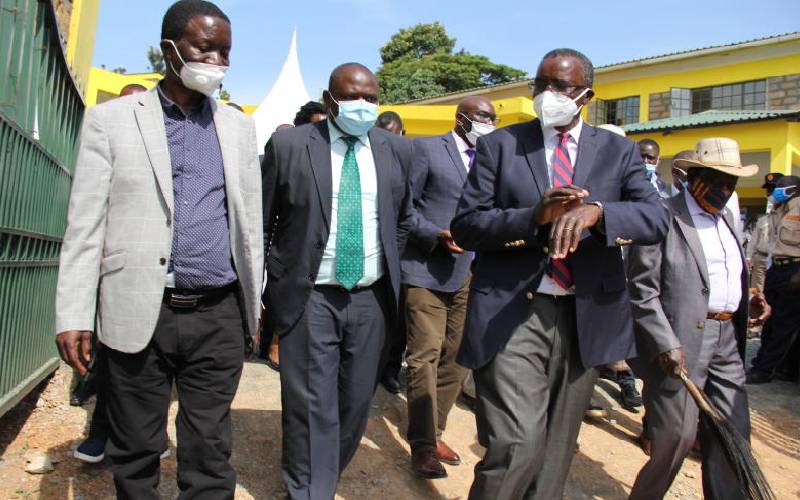 The Judiciary will establish Employment and Labour Relations Court in Homa Bay town, Chief Justice David Maraga has said.
Once completed, the court will be a relief to South Nyanza region who have been forced to go to Kisumu for the same.
Residents of Homa Bay, Migori, Kisii and Nyamira counties incur expenses as they travel to Kisumu in their endeavours to seek justice on labour-related matters.
The chief justice who spoke in Oyugis on Friday said the court will serve the entire region.
Read More
Maraga who was accompanied by Kasipul MP Ong'ondo Were, Judiciary Chief Registrar Anne Amadi, Homa Bay Resident Judge Joseph Karanja and County Commissioner Moses Lilan, said they will also set up a Land and Environment Court in Homa Bay.
Maraga said he had noted area requests' on the establishment of the two courts which are crucial for the administration of justice.
"We are going to post two judges to handle cases on employment and labour relations, and those related to land and the environment. I don't want to say when but this is something we are going to do as soon as possible," Maraga said.
Establishment of the Land and Environment Court will be a reason to smile for Homa Bay residents who have been seeking its services in Migori town.
More judges
Were urged the Judiciary to upgrade Oyugis magistrate's court to a High Court to enhance the administration of justice.
He called on the Judicial Service Commission to recruit more magistrates for the court.
"Currently, we have only two magistrates in Oyugis court but the court serves Kasipul, Kabondo Kasipul and Karachuonyo constituencies. More magistrates should be posted here," Were said.
The MP also urged the Judiciary to upgrade the mobile court in Kendu Bay town to a fully-fledged court to decongest Oyugis court.
"Upgrading the mobile court in Kendu Bay will reduce the backlog of cases in Oyugis town," the MP added.
He hailed Maraga's pledge saying it will benefit the entire South Nyanza region.
He said establishing the Labour and Employment court in the county was long overdue, adding that Kenyans need to get justice without a lot of struggles.
"Can you imagine someone from Migori county near Tanzania border moving from Sirare to Kisumu to seek justice, it is unfair on our people," Were said.