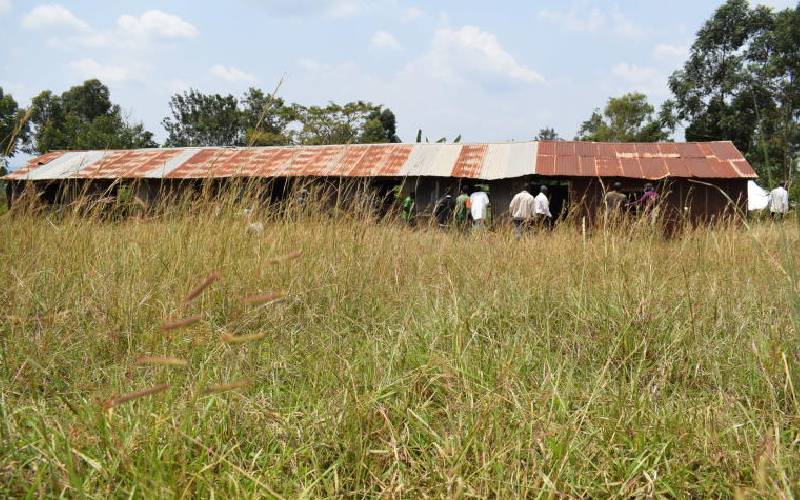 Parents and pupils have decried the dilapidated state of a primary school in Ndhiwa constituency and called on the government to erect proper classrooms before January.
The parents are worried that pupils of Gina Primary School in Kamenya Location, South Kabuoch ward may fail to resume learning in January when schools re-open due to lack of six classrooms.
Speaking to Standard Digital at the school on Monday, the parents said the classroom structures are in a pathetic state, with walls falling off and roofs tearing away.
The school community led by the school management committee chairman Silvester Odiyo expressed fear that their children could miss learning if the classrooms are not built.
Read More
According to parents, the school also lack desks.
Odiyo said the lack of classrooms and desks can highly predispose pupils to risks of contracting Covid-19.
The chairman said many pupils sit on the floor while others share the few available desks.
"We are worried that our children will not open school due to lack of classrooms. It is ironical that some schools are struggling to expand good classrooms yet we don't have any," said Odiyo.
The parents accused the national and Homa Bay county governments of neglecting the school.
They are appealing to Ndhiwa MP Martin Owino, the Ministry of Education, the county government and well-wishers to intervene and rescue the pupils.
"We appeal for their intervention because the future prosperity of a community is determined by education. Failure to prepare the infrastructure for academics will jeopardise economic growth of the community," Opiyo said.
According to Omondi Nyariaro, a local, the poor infrastructure of the school implies that they are not Kenyans yet that is not the case.
"We want the government to tell us our stake in the government because what is happening here shows were are neglected," Nyariaro said.
The school with more than 400 pupils and six teachers also lack latrines forcing teachers and pupils to share a two-door latrine.
"It is shameful to see pupils share latrines with teachers. Gina Primary needs help," said Andrew Midigo.
They attributed poor academic performance in the school to the bad infrastructure.
According to area Chief Calvin Onyango, a good infrastructure is key for good academic performance.
"We cannot expect good academic performance here. The school needs financial support," Onyango said.