Boost as over 500 youth in Rangwe get Sh11.4m for startups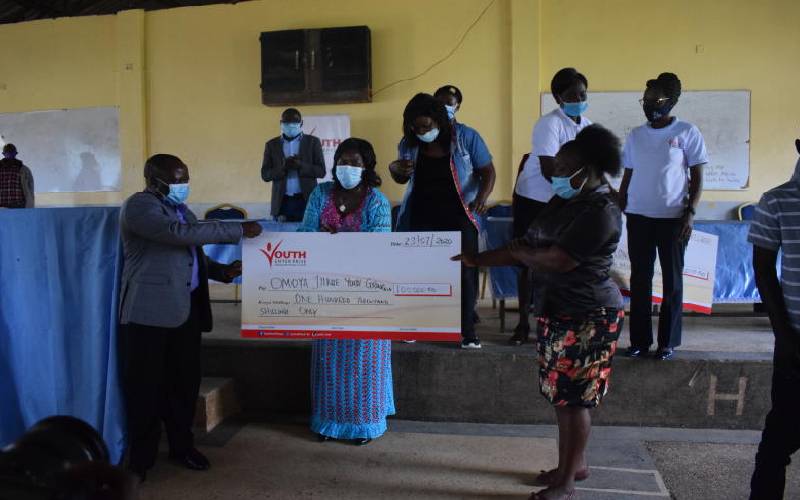 Over 500 youth in Rangwe, Homa Bay County will benefit from Sh11.4 million given by Youth Enterprise Development Fund (YEDF) to help them venture in entrepreneurship.
Speaking on Saturday, July 25, when she accompanied YEDF acting boss Benson Muthendi to distribute cheques to various youth groups at Orero Boys Secondary School, area MP Lilian Gogo said she will support the youth through the NGCDF to get tenders from various government agencies in Homa Bay county.
The money was distributed through 50 youth groups from all the four wards in the constituency. The groups got a minimum of Sh100, 000 each.
The youth will undertake a number of income-generating activities such as poultry farming, horticulture, cyber café, among other business activities.
The MP said her partnership with the YEDF is to enable youth in the constituency create wealth.
She expressed optimism that the youth will become self-reliant through the programme.
"I have mobilised the youth to form these groups to enable them to become wealth creators. Youths who take this programme seriously will become employers in the near future," said Gogo.
The MP said youth in Rangwe constituency had qualified for Sh20 million from the YEDF this year, adding that the remaining Sh8.6 will be distributed to the youth by October.
The MP told the youth to demonstrate financial discipline to enable them to succeed in the programme.
"Let every youth must understand that business requires financial discipline. You have only two options here, to utilise the funds prudently and become a millionaire in future or misuse the funds and become poor," Dr Gogo said.
The MP argued that empowering the youths will reduce poverty levels in Rangwe.
Muthendi said the money had already been deposited in the youth groups' bank accounts.
"The youth should now go to banks and start implementing their projects," he said.
Muthendi said a lot of business opportunities are available hence they should take advantage of them.
Trained on fund management
"This is the time for youth to identify products which are lacking in their county and import them. They can also export products which are missing in other counties," he added.
He said they had trained the youth on financial management to enable them to utilise the funds well.
Beneficiaries said the funds will transform their lives.
"We are going to set up a shop for selling fruits and I believe this money will make our efforts successful," said Esther Oyieyo, the beneficiary.