Gregory Dow's victims, families speak of his 16-year sentencing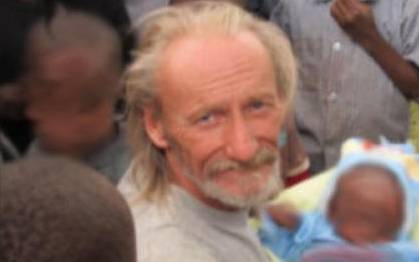 It has been seven years, but the trauma that four girls endured in the hands of an American missionary they had grown to trust, is still fresh.
The four girls were sexually molested by Gregory Dow (above), 61, at a children's home in Boito, Bomet County, between 2013 and 2017.
"As a child you never forget that face. That look of an animal looking at you," recalled Mercy (not a real name) on Tuesday when The Standard caught up with her.
Mercy, now a Form Two at a secondary school in Bomet, can still see the abuser's tormenting eyes. She still remembers his odour.
"That cologne just reeks. This was seven years ago when it happened and it takes me back that same day... when his name is mentioned," she says as she bows her head to avoid eye contact.
An orphanage
She was one of the four girls at an orphanage Dow and his wife ran in Bomet County.
On Monday, Dow admitted during a federal court hearing in the State of Pennsylvania to having committed the crimes between 2013 and 2017.
He is facing 16 years in prison after pleading guilty.
Mercy has been suffering the effects of that abuse for almost a decade. Whenever she sees a white man or anyone mentions Gregory Dow's name, she is taken back seven years to when it all happened.
Her mother (RK), 58, says she regrets the day they welcomed Dow to live in their midst.
She recalls 2008, when a stranger - she refers to as 'a white-man' - strolled into their home to establish a children's home.
"He was in the company of a local church leader, promising best education for our children.
"At the time, my daughter had just died, leaving behind two children under my care, and being a single mother of two, I thought it was a good idea to give up the minors so I could focus on providing for my other children, who were also in school," recalled RK.
Little did she know that the sweet-talking stranger was a wolf in sheep's skin.
"Every mother wants the best for her children and the mention of free education was enough to allow Dow and his wife Mary Rose Dow to have my two grandchildren," RK says.
For EC, another guardian whose grandchildren fell victim, having witnessed the work of Christian missionaries during her childhood, she could not resist the offer by the Dows. She said from the first instance she thought the couple, who were aided by respected church leaders in the county to set up the home, were Godsend.
"Personally, I had witnessed the works of missionaries and I could not resist their offer at the first mention," she said.
EC, who hails from Chebwagan in Bureti, said the Dows, accompanied by local church leaders, promised to provide the best education for the two orphans.
A promise
"I did not hesitate to release my two grandchildren after being promised that they would ensure my grandchildren get education," she said.
Geoffrey Ngetich welcomed the Dows with open arms by leasing to them 1.5 acres of his land to set up the children's home after presenting themselves as missionaries.
For one year, the two foreigners acted friendly, allowing neighbours free access to the home and frequently throwing parties, where cows were slaughtered to celebrate the new-found friendship in a foreign land, miles away from their home in the US.
The Dows even hired several neighbours as casuals at the home and paid them handsomely. They tipped, with handouts, those who spared their time to pay the home a visit.
Doors closed
However, it was not long before the doors were closed on them and a high perimeter wall built, with 24-hour sentinels at the gate.
Ng'etich says at first they thought it was for the good of the more than 80 children who had been enrolled at the home.
"As neighbours, we did not take the move in a bad faith, after all we had known them and everyone was contented and we chose to give them their privacy," said Ng'etich.
For nine years villagers were kept in the dark on the happenings.
The guardians of the children who were taken in as orphans were also restricted from accessing the facility with limited visits to check on the children.
Families of the four girls who were molested are now demanding harsh penalties for Gregory after he pleaded guilty to sexually abusing the minors.
Relieved that finally justice would be served, the families have also demanded that Dow and his wife compensate them for abusing their children.
"He should be punished harshly for messing up the lives of our children," RK told The Standard yesterday.
She said her granddaughter was yet to come to terms with what she went through at the Children's Home three years after being rescued.
"My granddaughter is still traumatised and for Gregory Dow to admit the offence is not enough, we want to see a harsh penalty. He should also be forced to compensate for his deeds," she added.
EC said her wish was for Dow to be returned to Kenya to face trial and sentencing.
"Though we are pleased that action is being done in America where he run to after abusing our children, we want to be part of the trial so that we can give our account and witness him being sentenced," said EC
She said she was annoyed to learn that there was already agreement that Gregory Dow will serve only 15 years and register as a sexual offender.
"15 years is not enough for a child sex offender who has ruined lives of our children and used them to source money from donors," she said.
EC said while they had moved on and would not want to revisit what her two granddaughters went through, she would like the government to take responsibility for the education of all the children who were abused.
Government allowed
"The government allowed and licensed him to operate in the guise of being a Christian missionary, exposing our children to abuse. They should take responsibility to see that the children get education and proper care," she insisted.
EC said since age was catching up with her, she feared that the two girls, who are in high school, might drop out.
Dow, 61, who hails from Lancaster in Philadelphia, pleaded guilty on Monday to four counts of engaging in illicit sexual conduct with a minor between 2013 and 2017, while running Dow Family Children's Home, which he established in 2008.
The prosecution told the Lancaster court that Dow "purported to be a Christian missionary who would care for these orphans. He used force and coercion to perpetrate the most heinous of crimes, preying on vulnerable children for his own sexual gratification," the prosecution told court, as quoted by the LNP daily newspaper in Lancaster.
Dow pleaded guilty following a plea agreement that he serves 15 years and eight months in prison and register as a sex offender.
Dow fled the country together with his wife in 2017 to avoid arrest and prosecution after he was caught defiling one of the girls at the children's home.
The Dows Children's Home has since been closed. The owner of the land where the children's home stood has repossessed it.