Police bury Ohangla musician at dawn with only brother as witness
Police finally buried Ohangla musician Abenny Jachiga at 2:30am at their Chiga home, Kisumu county on Saturday after locals had blocked his planned burial on Friday.
During the dawn burial, sources told Standard Digital that only the musician's brother Austin Omondi was allowed to witnesses the burial.
Family sources said police and a group of bouncers went for Omondi (Jachiga's brother) at 1 am and picked the body at St. Elizabeth hospital's morgue then proceeded to bury it without other family members.
"He was buried under tight security with police who were in plain clothes and some bouncers at 2:30am."
Locals thought they had won the battle against the police on Friday after blocking the planned burial forcing the law enforcers to retreat with the body being returned to the mortuary only to wake up to the news of Jajicha's burial.
Locals say police waited until the youth that were camping in the musician's home left then brought the body and buried it with only a few family members.
"They were armed and cruel, they buried him alone while the village was asleep, this is not how things are done," a local said.
A source told Standard Digital that the locals got wind that the body was to be buried at 9pm and decided to stay awake but did not see them (police) bring the body prompting them to return to sleep.
"There were rumours on social media at around 9pm that he was being buried, we confirmed it was not true, we kept guard until midnight but did not see anyone," Ken Obonyo, a local said.
Police, however, waited until the village was asleep, and removed the body from St Elizabeth Hospital mortuary in Chiga for burial.
Chaos rocked the musician's Chiga home as police clashed with mourners over the hurried burial.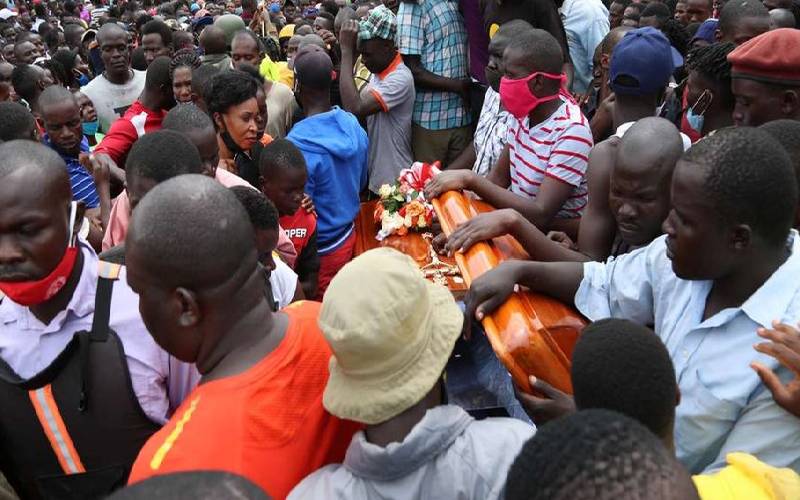 Scores were injured as police shot in the air and lobbed teargas canisters to disperse defiant mourners who had hijacked the ceremony at the musician's home in Chiga on the outskirts of Kisumu town.
The mourners insisted Jachiga was a hero with followers and could not be buried like a dog.
"Why do they want to bury him like a man who never had followers, we oppose the burial," mourners said as they battled police in a day-long battle.
The mourners even filled up the empty grave with boulders to stop the burial, claiming it was too hurried.
It has not been clear what killed the musician, with family sources indicating that he died of pneumonia.
Covid-19 directives
With the Covid-19 pandemic, the government has directed that burials be conducted within 48 hours after death with only a few family members allowed to attend to contain the spread of the virus.
Jachiga' brother pleaded with the government to give them even two days to mourn and conduct an autopsy to know what killed their kin in vain.
Jachiga, his real name Bernard Onyango, died at dawn on Wednesday at St Jairus Hospital where he was rushed after falling ill.
Known for his provocative Ohangla love songs, Jachiga, 33, succumbed to pneumonia, according to his family.
Health officials yesterday launched investigations into the cause of death and had taken samples from the body, but sources said the samples tested negative for Covid-19.
One of Jachiga's most popular songs, Kasinde attacks unfaithful women who refer to all their lovers as "my cousin".
The musician who lived at East Kolwa-Chiga location, Kisumu East Sub-county started his music career at the age of 21 as an instrumentalist.
He released his hit song Kasinde in mid-2018 and is also known for other songs like Usidharau mwenzio, Penzi ni kama mayai and Simba manyo wendo.
He is survived by a widow and five children.