Man links hospital to death of his wife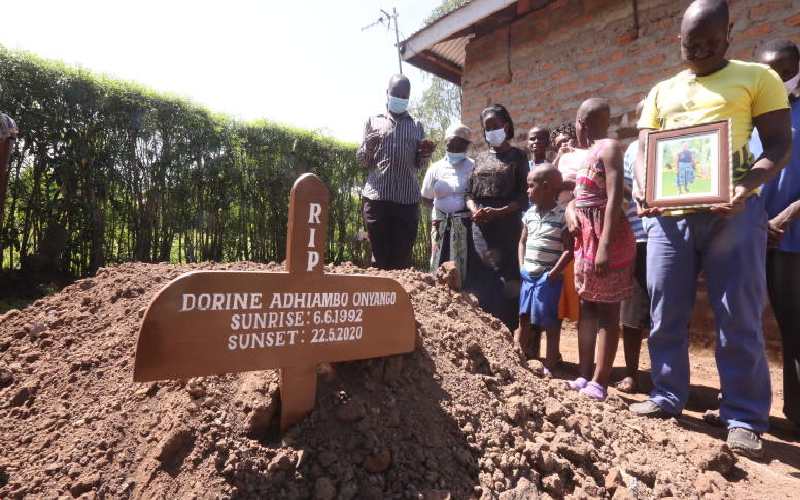 A man is seeking justice after his wife died at a referral hospital in Kisumu over alleged medical negligence.
George Onyango said he took his wife Dorine Adhiambo, 30, to Jaramogi Oginga Odinga Teaching and Referral Hospital on the evening of May 21 after she went into labour.
According to Onyango, they arrived at the hospitals at 7:30pm and medics recommended a delivery through caesarian section. She was wheeled to the theatre at 8:15pm.
At 10:15pm, Onyango who was seated outside the ward with the hospital guards, was called in by nurses to see his newborn daughter.
"At midnight, I asked a guard if it was possible to see my wife. I was worried but he said I should wait to be called by nurses," said Onyango.
Clinic book
At 1am, a nurse approached Onyango and took Adhiambo's clinic book without saying anything to him.
At 4:30am, two nurses called him in and informed him that his wife was dead.
"They said my wife was dead and that they had done everything possible to save her life but my newborn was fine," Onyango said.
When contacted, hospital Chief Executive Officer Dr Peter Okoth said his office was aware of the matter and investigations had been launched.
"We have a full medical report and now monitoring who attended to the patient and circumstances that led to her death," said Okoth.
A post-mortem examination report reveals that Adhiambo's death was caused by excessive internal bleeding due to an injury to the bladder during caesarian section.
Onyango's uncle Francis Kalal said the family is seeking compensation and wants the medics who attended to Adhiambo be held responsible.