WHO board pick Amoth has been a safe pair of hands in days of anxiety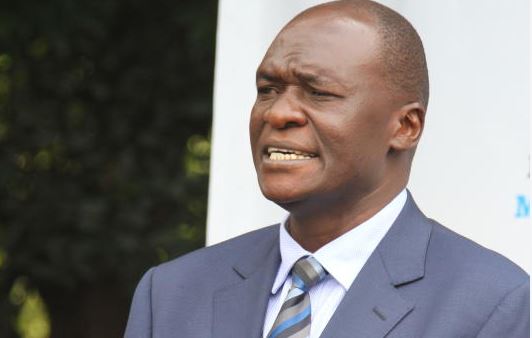 As a village boy trekking several kilometres to attend a local primary school in his sleepy hamlet of Segere in Siaya, Patrick Omwanda Amoth (pictured) did not know he would one day rise to dine and wine with kings.
Although his father, Owira Amoth, was a feared paramount chief who had no mercy for lazy children and errant villagers, the young Amoth never dreamt of one day flying overseas to represent Africa in one of the most respected UN agencies - the World Health Organisation (WHO).
Nearly 50 years later, and after distinguished service to his country as a medic, Dr Amoth, who is the Acting Director General for Health, has achieved global recognition.
His recent appointment as vice president of the WHO Executive Board has catapulted him to stardom.
This is a respected position since the board is charged with determining the budget, programmes and activities of the world health agency.
The board has 34 persons qualified in the field of health. Each is designated by a member state that has been elected to serve by the World Health Assembly.
Amoth is among five others who will be representing Africa for the next two years.
Interestingly, the doctor was not known to many Kenyans until the Covid-19 crisis smoked him out of the corridors of the Health administrative headquarters in Nairobi.
Before Amoth and his boss - Health Cabinet Secretary Mutahi Kagwe - started giving daily updates on Covid-19 infections and deaths, he worked behind the scenes at Afya House.
As the chief technical health advisor to the Cabinet Secretary and the government, Amoth burnt the midnight oil, sifting through volumes of health surveillance reports from across the country and consulting policy papers to ensure everything was running smoothly.
He quickly became a permanent feature in the war against Covid-19. While the Cabinet Secretary and his Chief Administrative Secretary gave an overview to the media, Amoth demystified the presentations and broke down complex medical reports into language that was easy to understand.
Frequent travels
Although the new position will not demand that he works from the WHO headquarters in Geneva, Switzerland, he will have to travel frequently and attend meetings to discuss Africa's health challenges.
But who is the medic who has caught the attention of global health experts?
Those who know him say he is the complete opposite of his late father, Owira, a colonial chief whose word was law.
Then there is his brother, Siaya Governor Cornel Rasanga Amoth, a tough talker who brooks no dissent.
"He was a quiet man who loved his work. He was my boss at the Kisumu District Hospital many years back," said Jack Onyango, a retired nursing officer.
One of Amoth's peers, who did not want to speak on record because he is now his boss, described him as a results-oriented man.
"After college, I know he started his journey as an intern at the Jaramogi Oginga Odinga Teaching and Referral Hospital, then known as the Nyanza Provincial Hospital. He was a man who shied away from controversy," said the medic.
Yesterday, Amoth told The Standard that his appointment to the WHO was unexpected, but he was elated all the same.
"It came as a surprise. I must say it is a big honour not only to me but for my motherland Kenya and for Africa, which I will represent at the board."
He said his appointment was confirmation that WHO has confidence in Kenya, its leadership and professionals.
Amoth had earlier tweeted: "I am overwhelmed and deeply grateful for your support and kind words on my election as Vice President of WHO Executive Board. My sincere gratitude also to MOH_Kenya led by CS Mutahi Kagwe for their confidence in me. I will endeavour to represent Kenya with dignity and honor."
The doctor was elected alongside five other vice president to represent the continent. They are Dr Lemoganga Kwape of Botswana, Prof Adame Traore of Burkina Faso, Martin Essono of Gabon, Kwaku Agyeman of Ghana and Ahmad Ahmad from Madagascar.
A representative from Guinea Bissau was yet to be elected by this week.
The WHO's 147th Session was held on May 22 with Covid-19 as the main agenda. Most delegates participated via online platforms.
The main functions of the board are to implement the decisions and policies of the health assembly, and advise and facilitate its work.
Amoth joins the board at a time Kenya is battling the coronavirus disease amid a massive economic meltdown. Infections are past the 1,000 mark and more than 50 deaths have been reported.
He is expected to join other African delegates in positioning the continent for necessary assistance to fight the disease.
The doctor hit the news last week when he warned that the country would start seeing upwards of 200 coronavirus infections daily by next month if citizens failed to observe safety guidelines.
Before his appointment as the Acting Director General for Health early this year, Amoth was Senior Deputy Director of Medical Services at Afya House.
Prior to this, Amoth, who is an obstetrician-gynaecologist, had worked since October 2013 as head of the family health division in the ministry.
His duties included developing national guidelines on standards of health care for clinical and community health practices in reproductive, maternal, newborn and child health, among other roles.
Amoth has also served the government as the Chief Medical Specialist (ob/gyn) and Senior Deputy Director of Medical Services at the Mama Lucy Kibaki Hospital.
He has also worked at the Machakos Level Five, Kiambu County and Jaramogi Oginga Odinga hospitals.
Between 1997 and February 2001, he was the Chief Medical Specialist at the University of Nairobi/Kenyatta National Hospital.