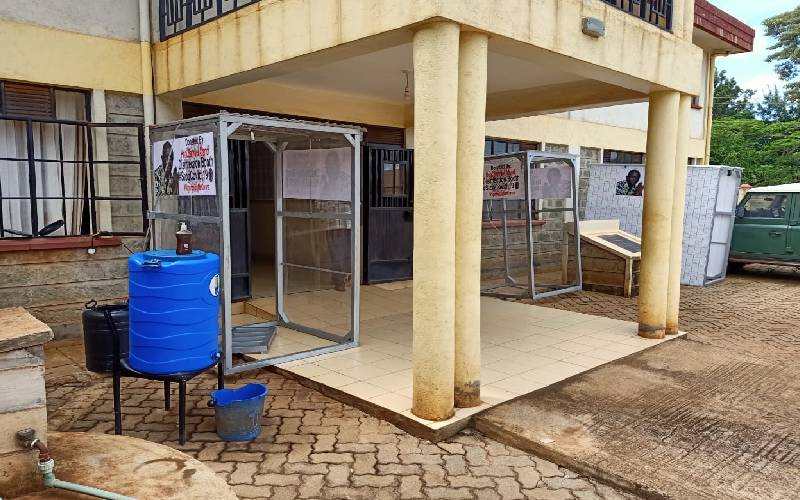 Alego Usonga MP Samuel Atandi has installed disinfection booths in three major markets in the area to curb the spread of coronavirus.
Speaking to Standard Digital on phone, Atandi said the move to install the booths is a proactive initiative on top of what the government has put in place to ensure the virus is kept at bay.
"What we are doing is a backup measure to buttress the government's measures such as the compulsory wearing of masks in public places, curfew and social distancing," he said.
According to Atandi, the three major markets are critical areas frequented by many people hence the need to mount the booths in Siaya Town, Ngiya and Boro markets.
Read More
He said the booths will serve members of the public, boda boda operators and traders.
"We have installed disinfection booths in our three large markets to boost our campaign against Covid-19. Traders visiting Siaya Town, Ngiya and Boro markets need not worry about contracting the deadly virus."
Apart from the booths, the MP has also installed hand-washing stations with soaps where locals can go to before they enter the booths.
"Besides this, we are also providing our people with hand washing stations and sanitisers for people to use before they walk through the booths," he said.
He said plans are underway to bring more booths to cover smaller markets in the constituency.
"Once we acquire more booths, we will move to other markets to make sure that all our people are safe from the virus.
He urged locals to adhere to other measures put in place by the government to curb the spread of coronavirus.
"Let everyone take the government's directives seriously if we want to be spared. People must wash their hands, keep social distance and put on face masks," he said.
He urged locals to protect the booths which are the first of its kind in the larger Nyanza region so that they can serve the purpose for which they were installed.
"We have to be vigilant and protect the booths, this virus needs concerted efforts," said Atandi.
Locals mostly boda boda and traders frequenting the three markets have hailed the booths saying they are better than hand sanitiser.
"This one disinfect the whole body unlike the hand sanitiser, therefore it makes one feel secure, said a local boda boda rider.
Another resident, Ken Otieno, praised efforts by the MP to install the booths saying, it will boost the fight against coronavirus.
Kenya's Covid-19 cases have risen to 781 after 23 more people tested positive for the virus out of the 2,100 samples tested on Friday.