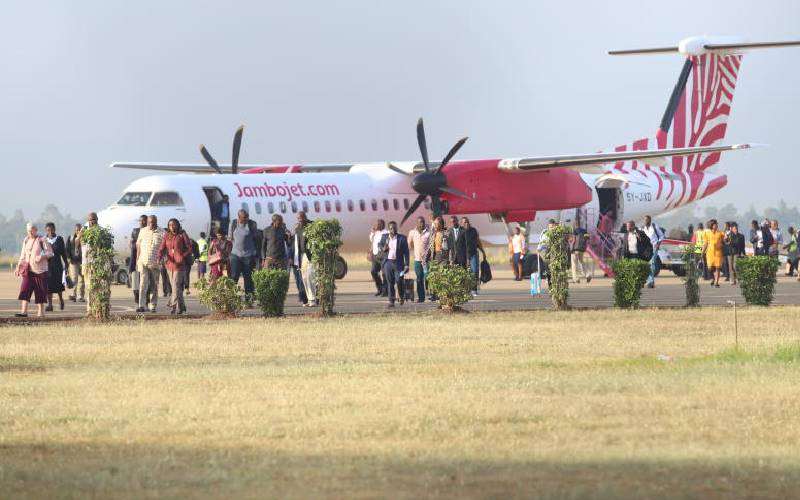 A group of villagers living around the Kisumu International Airport have sued the Kenya Airports Authority (KAA) over the ownership of a parcel of land a key road sits on.
Residents of Usoma Village went to court after KAA erected a fence on a road passing through the parcel and allegedly started imposing levies on those using it.
The suit filed by five residents of Usoma Village on behalf of the community lists several grievances asking the court to prevent the airports agency from restricting their access through the parcel and charging levies for use of the road.
Denied freedom
Read More
The petitioners say the road blocked by the authority is the only one serving their village, which is sandwiched between the airport, the Kenya Ports Authority (KPA) depot and Lake Victoria.
"The community residing within Usoma village, comprising more than 300 families have now been denied their freedom of movement as well as the right to enter, remain and reside in Usoma Village," the petition reads.
The residents termed the decision by KAA to introduce airport entry fees to those using the road as prejudicial and are accusing the authority of stationing police officers at the parcel to harass and deny them access.
The community also allege that an alternative road they had been using to access their homes was also sealed off by KAA.
They claim that their situation has been worsened by the rising waters of Lake Victoria, which has rendered other roads impassable.
In a supporting affidavit, Moris Roche, the secretary of Kogony Land Council of Elders, claims that the parcel belonged to their forefathers and dismissed KAA's claim over it. "The said area has never been used by KAA at any one time, and has always been used by the community living next to the airport," Mr Roche said.
Petrol tankers refueling at the Kenya Pipeline Company (KPA) depot have also been using the parcel as a parking bay. Court records indicate that KAA has directed them to start paying airport entry fees to use it.
On Friday, Justice Antony Ombwayo of the Land and Environment Court directed the petitioners to serve the authority within three days.
The judge will deliver a ruling on May 20.