Floods displace thousands in Siaya, after River Nzoia burst its banks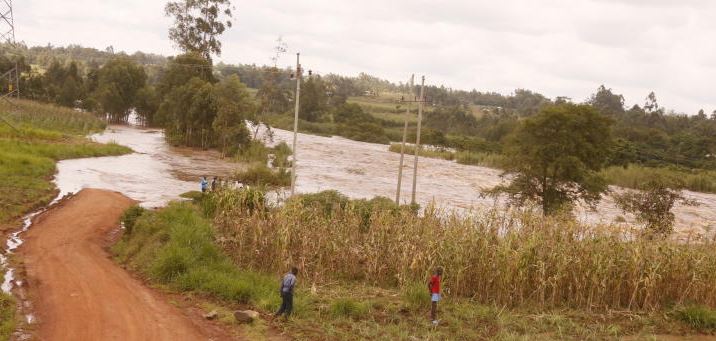 More than 5,000 families in Siaya County have been displaced by floods after River Nzoia burst its banks.
Alego Usonga Deputy County Commissioner Joseph Sawe said some of the affected families were being sheltered by well-wishers in neighbouring villages where the situation was not as bad.
The rest are being sheltered at Nyambare and Mahola Primary schools.
Ugenya MP David Ochieng' toured West Ugenya, which has largely been affected, and said the county government would help those affected rebuild their homes. He also donated relief food, sanitisers and masks to the displaced.
The MP further said he was talking with senior government officials to come up with a permanent solution of alleviating floods in future.
His Ugunja counterpart Opiyo Wandayi said the government should declare the floods a national disaster for the situation to be accorded the attention it deserves.
"This is the only way it will attract the necessary attention from the State, humanitarian agencies and other private actors. Already, thousands have been displaced, their homes having been swept away. In Ugunja Constituency, an entire sub-location has been affected. They have also lost their belongings and sources of livelihoods," added Mr Wandayi.
With the country still struggling to contain the spread of Covid-19, the MP said the matter needed urgent attention as the residents could not observe social distancing in some of the places where they were being accommodated.
Elsewhere, the body of a 17-year-old student who was attacked and killed by a crocodile after falling from a mango tree on the banks of River Tana has been recovered.
The body was trapped under a bridge that collapsed due to floods at Majengo area in Tana River County.
The student is said to have accidentally fallen from a tree and into the crocodile's mouth on Monday.
Police said the body of Jillo Ali Abdalla, a student at Hola Township Secondary School was found on the river's bank on Thursday. His left arm was missing.
"The boy fell into the jaws of the reptile at a watering point in Hola while harvesting mangoes together with his friends," Tana River police boss Frederick Ochieng' said. Residents have been urged to be cautious.