Family seeks justice after kin assaulted by police during curfew dies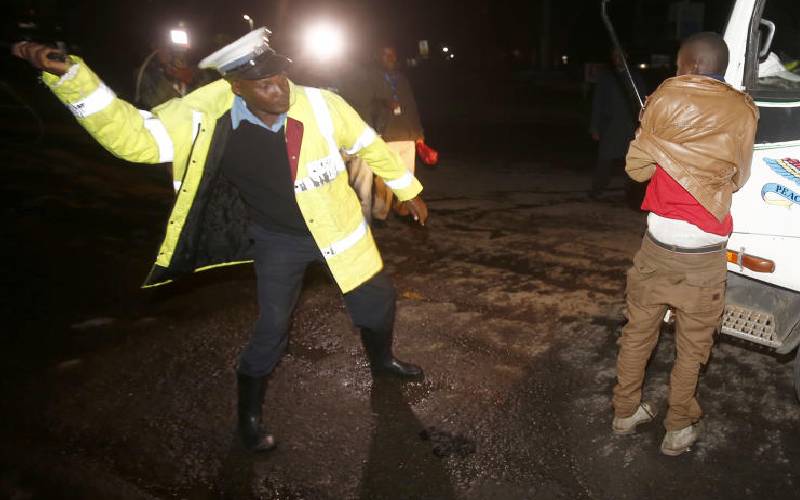 A family in Homa Bay County is grieving the killing of a 25-year-old man by the police for allegedly disobeying the curfew by the government in the wake of the coronavirus pandemic.
Calvince Omondi, a boda boda rider, died on Sunday, March 29 from the injuries allegedly inflicted on him by police officers enforcing President Uhuru Kenyatta's dusk to dawn curfew.
According to the deceased father George Onyango, Omondi was rushed to Rachuonyo South sub-county hospital in Oyugis town on Friday night, after sustaining injuries on his head due to police beating.
He said the officers stopped his son who was on his way to their Saye rural home, beating him up for operating beyond the curfew time.
"They descended on my son at Kosele trading centre and beat him up until he was unconscious before taking him to hospital," said Onyango.
Omondi is reported to have ferried a customer from Oyugis to Kendu Bay earlier on Friday, March 27, the first day of the curfew, and was on his way back when he met the marauding officers.
Onyango said he was informed by Omondi's friend that he had been assaulted by a group of police officers on his way back to Saye village home in North Kamagak Location.
Onyango said he rushed to the hospital and found his son unconscious, as he remained speechless till he died on Sunday morning.
"I went to the hospital where he had been taken and found him unconscious. He never talked to anybody until he died this morning," he told Standard Digital.
He has called on the government to probe the circumstances under which his son died and bring to book the rogue officers who killed his son.
He said the death of his son is a blow to the entire family which depended on him as the breadwinner.
"They should have arrested him not killing him, his death has gutted the family," he said.
Omondi left an expectant widow and one child.
Accident
But when reached for a response, the police said that Omondi was involved in an accident as he tried to escape the police on a fateful day.
According to Rachuonyo South police boss Essau Ochorokodi, Omondi saw the officers manning a roadblock and sped off trying to escape, but hit a bump and crashed.
"He saw police officers and decided to speed with the intention of escaping them. Unfortunately, his motorbike hit a bump after which he fell and hit his head on a culvert," said Ochorokodi.
He said his officers took the rider to the hospital after realising he was seriously injured in the accident.
"The young man was taken to the hospital by our officers after the accident," said Ochorokodi.
The police boss challenged the family to present any evidence of assault to his office to enhance investigations into the incident.
"The family should provide any evidence of an assault. This will enable us to undertake investigations for an appropriate measure to be taken," he added.