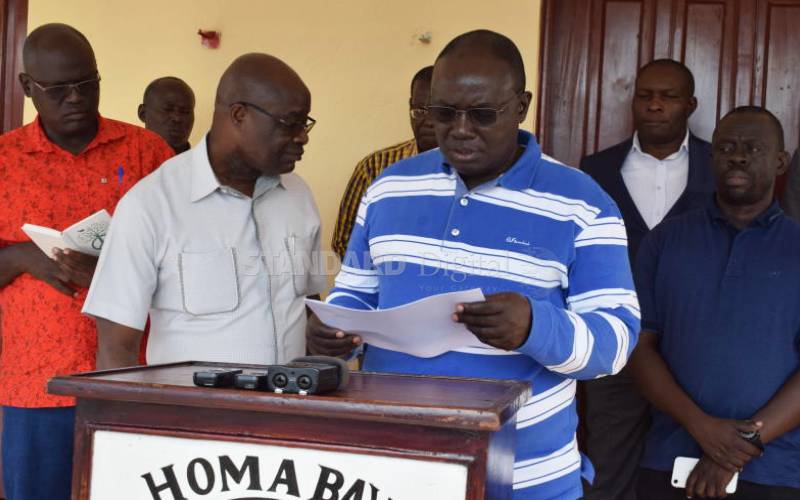 Traders selling foodstuff in open-air markets in Homa Bay County have been exempted from taxes to cushion them from the economic impact of Covid-19. Addressing the press yesterday in his office, County Secretary Isaiah Ogwe said such markets would remain open and that those selling edible items would not pay taxes for 30 days. Mr Ogwe was accompanied by Finance Executive Nicholas Koriko and Finance Chief Officer Noah Otieno. However, those selling non-edible items have been barred from the markets.
SEE ALSO: Starehe Boys gets new leadership
"Governor Cyprian Awiti has directed that revenue collection in all our open-air markets be suspended for 30 days," Mr Koriko said. He, however, stressed that traders operating in other formal premises would pay levies. This includes those operating shops and supermarkets. "I want to clarify that those operating in enclosed places will continue paying taxes. This exemption applies only to traders operating in open-air markets," Koriko said, adding: "We have also suspended the sale of non-edible items in open-air markets."
Improve livelihoods
Homa Bay County has more than 300 open-air markets.
SEE ALSO: From tailoring to body bags
County Assembly Majority Leader Jeff Ongoro said the tax exemption would help improve the livelihoods of the small-scale traders. Mr Ongoro also applauded the county for barring those who sell non-edible items from the markets, saying the directive would help control the Covid-19 spread. Meanwhile, Homa Bay Town East MCA Juma Awuor has started distributing sanitary items to residents to help them keep Covid-19 at bay. Mr Awuor distributed jerricans, sanitisers, soaps and masks to boda boda operators. The jerricans have been modified by inserting a tap that helps people wash their hands.
SEE ALSO: Atletico Madrid resume training after rest of squad test negative for COVID-19
He said yesterday that he wanted residents to embrace personal hygiene to prevent the virus. "My objective is to sensitise residents on the importance of hygiene for prevention of coronavirus," Awuor said. "We are especially advising parents to ensure their children wash hands." Yesterday, Awuor distributed the items at Marindi, Ogande, Kopiyo, Got Kokech and Nyangu markets. Mary Omongo, a resident, appealed to the county government to also distribute such items.