Mabele: King of Soukous taken out by coronavirus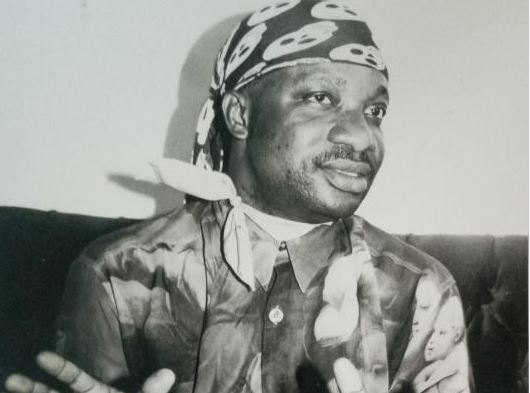 Versatile and stylish Congolese musician Aurellen Miatsonama Aurlus Mabele was planning a return to the stage when cancer attacked and finally silenced him, bringing an illustrious career spanning three decades to an end.
As his body lay in a Paris morgue yesterday, following his death on Thursday, Kenyan music lovers joined the world in mourning the man who used his voice, dancing styles and crazy attire to win many fans.
He is said to have succumbed to coronavirus, although he had been under treatment for cancer and had recently suffered a stroke. Some of his former promoters and friends claimed that even at 67, Mabele was still planning a grand comeback with a new dance style.
"He knew he would heal and return to the stage. I met him in France two years ago and he was upbeat. He even told me he wanted to rebrand Soukous, complete with a new dance style," Frank Diaz, one of his former promoters now living in Nairobi said yesterday.
Throat cancer
Diaz told Saturday Standard that Mabele has been battling throat cancer for the past five years and doubted reports that he died of corona virus complications.
It was popular Congolese musician Nyboma Mwandido who broke the news of Mabeles's sickness to Kenyans last year while performing at Kisumu's Tom Mboya Labour College.
Mwandido said Mabele was sick and asked Kenyans to pray for him. He even played one of Mabele's numbers as an honour.
On Thursday, Mabele is said to have checked into a hospital in Paris and died later that night. According to media reports, he developed complications arising from a stroke and coronavirus infection.
Known as the King of Sokous -- a robust genre of rhumba music style that originated from the Congo in the 1980s -- Mabele took dance halls by storm across Kenya with his dazzling dance style.
Some of his fans say he was the one who introduced the "punk" hairstyle which was quickly picked by Kenyan youth.
"I went to a kinyozi in 1988 in Nairobi and insisted that the barber give me "punk" hairstyle.
"It looked good but my father ordered me back to the kinyozi to have it removed," said a senior civil servant who asked not to be named.
Even as he breathed his last on Thursday, surrounded by his family and a few friends, deejays across the world continued to play some of his bestselling numbers such as the Stop Arretez (Stop the Arrests).
Kenyans on Twitter and lovers of Soukous music were uncontrollable as they mourned the man who shot to fame when he started his legendary Loketo group with Lucien Bokillo, who has since embraced gospel music, Awilo Longomba, Mack Macaire, Sah' Lomon and the late Jean Baron among others.
True to its name that means "hips" or "kiuno" in Kiswahili, the Loketo group rocked entertainment scene and had many children named after its members.
Mabele's only daughter, Liza Monet, herself an artiste, mourned her father with a brief but sad tribute.
"I am broken. You were a legend," she posted on Twitter soon after Mabelle's death.
To Mabelle's fans, she wrote: "Thank you for honouring his many works."
Fofona Bangali, the Kisumu-based music analyst and presenter of the Rhumba Non-Stop programme on Radio Lake Victoria, said Mabele's death has brought the curtains down on a creative musician who rose fast at a time of cut-throat competition from rhumba musicians.
Happy soul
"He was a creative and a happy soul. He never disappointed his fans. He was dazzling and versatile.
"He fell such towards the end of his epic career, he sought treatment in Belgium but his condition did not improve," Mr Bangali told Saturday Standard.
Media and governance consultant Owino Opondo, who has been studying Soukous and rhumba music for many years, described Mabele as a composer and crooner per excellence.
"Like a typical sapeur, the great artiste from Congo-Brazzaville blended his Loketo (the hips) dance style with an unmatched yet graceful acrobatic mien," Mr Opondo said.
"He was in a class of his own. Indeed, during our days in the university, in the late 80s, a gig was never complete without Mabele's songs. His music will live forever."
Opondo said Mabele belonged to a crop of musicians who conducted researched and knew what their fans needed.
Jackson "Luambo" Okinyi, another rhumba lover said Mabele succeeded because he was backed by talented guitarists and singers.
"He took time to emerge and when he did, he took the stage by storm. He was a happy artiste and he left his fans equally happy," he said.
Mabele was born in a sleepy village known as Potopoto in Congo Brazaville, near the River Congo. He started music at a tender age and mostly in his home village before other older musicians discovered his talent.
In 1974, he formed Les Ndini Mbola Lokole band alongside his friends Jean Baron, Pedro Wapechkado and Mar Cachorel.
In 1986, Mabele joined hands with Cacharel, guitar wizard Diblo Dibala, Lucien Bokilo and Jean Baron to form Loketo. They were later joined by Awilo.