Traders stare at losses as Daraja Mbili market closure effects begin to bite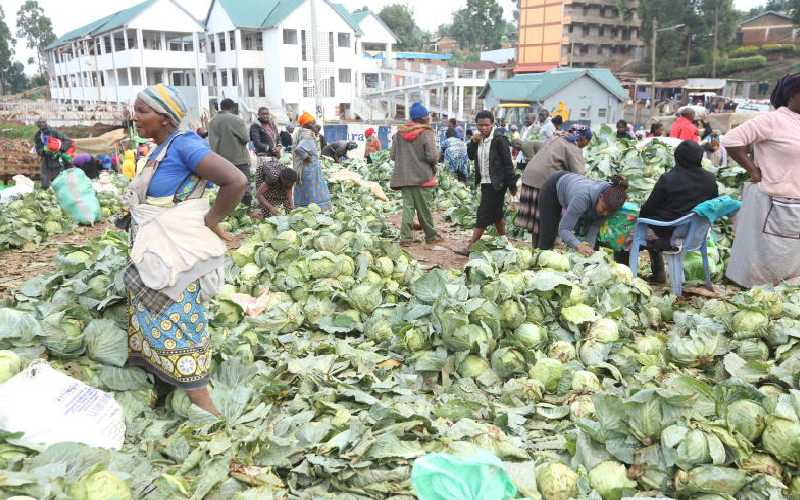 Several traders are staring at losses following the move by Kisii county government to close Daraja Mbili market to curb further spread of Coronavirus.
Governor James Ongwae in resolutions passed by the County Emergency Preparedness Committee agreed to close all major markets in the County following a directive by the government banning public gatherings in the wake of the coronavirus pandemic.
Daraja Mbili Market accommodates at least 7,000 large and small scale traders every Monday and Thursday. Majority of those who sell goods in large scale travel from as far as Uganda for those selling tomatoes and Tanzania for those hawking fruits.
Several traders also transport their goods from Kitale and Kilgoris in Narok County where indigenous and other fresh vegetables farming is done in large scale.
Denis Nyangwara, market chairman said the decision to close the market was ideal, but argued that traders should have been given enough notice.
"We support the National and County Government efforts to curb the spread of the virus but let's also be mindful of the poor who have to sell his goods to feed the family," he said.
According to Nyangwara the notice by the County Emergency and Preparedness Committee to close the market was too short.
"By the time they issued the notice some traders had already packed their goods and enroute to the market."
With most traders caught unaware, Kisii county could lose up to Sh50 million in the next 30 days.
At Daraja Mbili, those who sell in large scale pay between Sh700 and Sh5,000 per lorry while small traders pay between Sh30 and Sh160 per day.
Figures with the County Finance Department indicate that the devolved unit collects between Sh300, 000 and Sh400,000 during market days; Monday and Thursday.
Trade and Industry county executive Dr Skitter Ocharo said the order affects all other markets in the Sub Counties. "This is a directive that will have to implement for the next 30 days."
Kisii Bar and restaurant managers chairman Albert Ogeto said they are likely to make huge losses during the said period.
"The strategies will work to curb the spread of the virus but it will as well drastically affect our economy and render some of us jobless," he said.
CJ Bar Bar Restaurant proprietor Clive Ongwora said it will be difficult to keep with the County guidelines.
"We won't be selling alcohol during the day but we have to open the business to those who want to buy and eat. More consultations need to be done."
Hotels and other businesses offering hospitality services have also recorded decreased customer. Some hotels have not recorded even a single admission in the last three days.