Don't shut everything over coronavirus pandemic, Atwoli warns State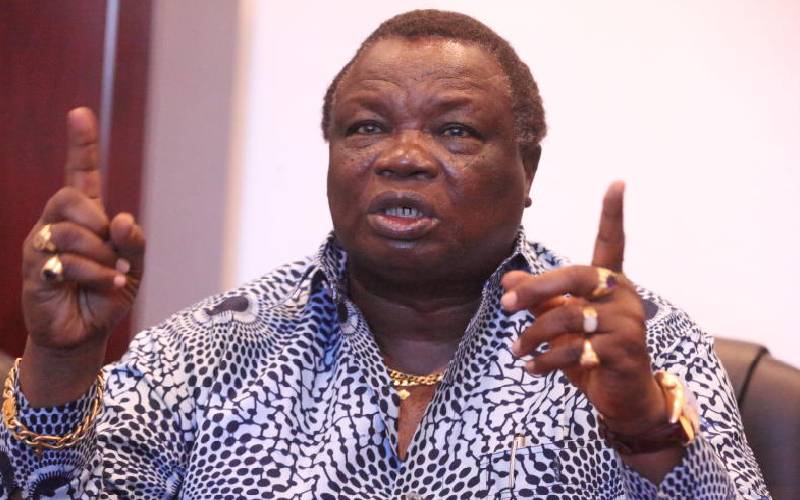 Cotu secretary general Francis Atwoli has cautioned the national and county governments against 'shutting down everything' in the wake of coronavirus pandemic saying the move could be counterproductive to the economy.
Atwoli warned governors against issuing unnecessary shutdown directives, saying they should remember there will be life after coronavirus.
Speaking to the media on Friday in Kisumu, Atwoli also warned leaders against comparing Kenya with other places like Europe where they are shutting down industries, saying our economy is smaller and depends on people to make it grow.
He said unlike Kenya, some of the Europe nations closing firms have got huge cash reserves set aside to deal with pandemics such as the coronavirus.
"If you want to compare Kenya with other nations, you will be making a grave mistake. Our economy requires people to supplement it. We need to produce more for export and local consumption," he said.
He said Kenya should not go the European route of shutting down everything without considering our economic strengths and weaknesses.
"We don't have money for researchers, books for students yet we still we are ordering firms to close," he said.
Atwoli said most Kenyans are poor and would find it hard to survive if the shutting down trend continues in the next few weeks.
"We live as if we live in slums and we want to tell people to shut down the economy? That cannot work," he added.
Dramatising coronavirus
He warned governors against dramatising the coronavirus pandemic through their shut down directives, saying they might expose Kenyans to hunger after the coronavirus.
"We should not dramatise coronavirus. People will die of hunger than coronavirus."
He accused leaders of creating fear among Kenyans by dramatising the pandemic by even stopping people from attending funerals, adding that Africans don't fear death.
"We can manage it and we should not be scared. As an African, I will walk there and bury him and wait for my time. Nobody should scare us," he said.
Atwoli cautioned Kenyans against being alarmist and instead encourage people to go about their work and take precautions.
"We don't want alarmists, we have a nation to keep, and an economy to grow. We will overcome coronavirus. As we take precaution, let us understand that we are Africans. We must toil to get food," he said.
Shutdown
Most counties have closed markets and other social amenities following the directive by the government banning all public gatherings.
In South Nyanza, traders stare at huge losses after Kisii county government closed Daraja Mbili, one of the largest market serving the region following state directive.
Daraja Mbili Market accommodates at least 7,000 large and small scale traders every Monday and Thursday. Majority of those who sell goods on large scale travel from as far as Uganda for those selling tomatoes and Tanzania for those hawking fruits.
Kongowea market, the largest in Mombasa, was closed in stringent measures to curb the spread of the COVID-19.
The facility will remain closed for at least 30 days.
In Laikipia county, most firms have been closed a move that could lead to widespread hunger if they stay shut for long.
Most county governments have also closed mortuaries with Kisumu and Kakamega now restricting the number of people allowed to attend burials.