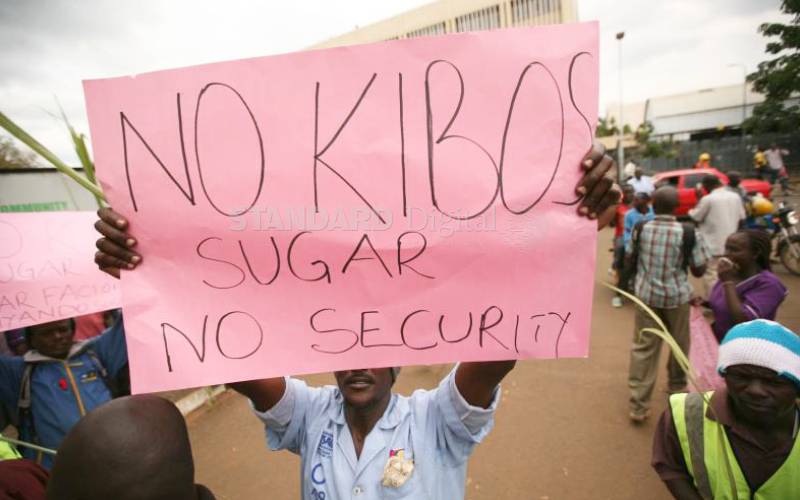 Operations were temporarily disrupted at Kisumu County Nema offices yesterday after farmers and workers stormed the office, demanding an explanation as to why Kibos Sugar Factory was shut down.
The protesters claimed the closure by the National Environment Management Authority (Nema) was instigated by business rivalry.
The environmental authority had last Friday made an impromptu visit to the factory and shut it down over reports that it was emitting waste into the environment.
Carrying placards, twigs and chanting anti-Nema songs, the protesters stormed Nema offices, where they dropped a petition demanding reopening of the factory.
Read More
They claimed the closure was a blow to the livelihoods of at least 3,000 employees and over 10,000 farmers who supply the factory with cane.
"Apart from these, there are a number of small businesses and locals who also depend on the factory for livelihoods," said Zedekiah Odhiambo, the chairman of Kisumu Sugar belt Cooperative Union.
Last year, Kibos Sugar management threatened to fold their operations and move elsewhere within the East African region in what they termed interference by the government, forcing Kisumu Governor Anyang' Nyong'o to intervene.
The stakeholders called on Prof Nyong'o and County Commissioner Susan Waweru to intervene and save the situation.
"We read malice in the way Nema is operating. The closure came without notice, leaving at least 10 tonnes of already harvested cane at stake," said Odhiambo.
County Nema Environmental Inspector Richard Korir, who received the petition, said he would pass it to the right people.