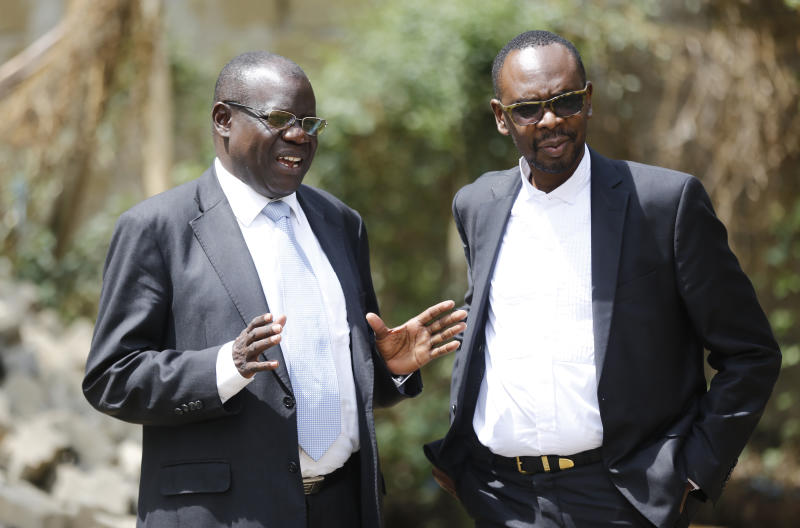 An inscription A man in need is a slave indeed on the corridors of a building in the City of Tripoli made President Daniel arap Moi change his mind about asking for a loan from Libya.
Former Internal Security Minister Julius Sunkuli recalls the day he accompanied Moi on an official visit to Libya in 2000.
According to Mr Sunkuli, Moi and his entourage had visited his host Muammar Gaddafi in the City of Sirte when he saw the inscription somewhere along the corridors.
The former minister said Moi had planned to ask Gaddafi for a loan to help revive the Kenya Meat Commission (KMC), but on seeing the inscription, he ordered everyone in his entourage not to talk about the loan.
Taken aback
"President Moi was taken aback by the inscription on a corridor leading to the venue of his meeting with Gaddafi. He decided that we were not going to pursue the loan to revive KMC. We could tell that Gaddafi did not like us very much," said Sunkuli, who is also a former Kenya's Ambassador to China.
The former powerful minister in Moi's government said the president surprised those who worked with him with his high levels of energy that saw him working in his office by 6am before leaving to visit various parts of the country.
"Unlike current politicians who prefer using helicopters to crisscross the country, Moi preferred traveling by road so that he could see for himself how citizens in various regions were fairing on," said Sunkuli.
He said the former President cared deeply for the people who worked for him both in his office as well as his official and private residences, and would often inquire how they were going on with their lives.
"President Moi was concerned about the welfare of his people, on several occasions he could help his bodyguards, gardeners and other staff put up modern houses in their rural homes and educate their children," he said Sunkuli.