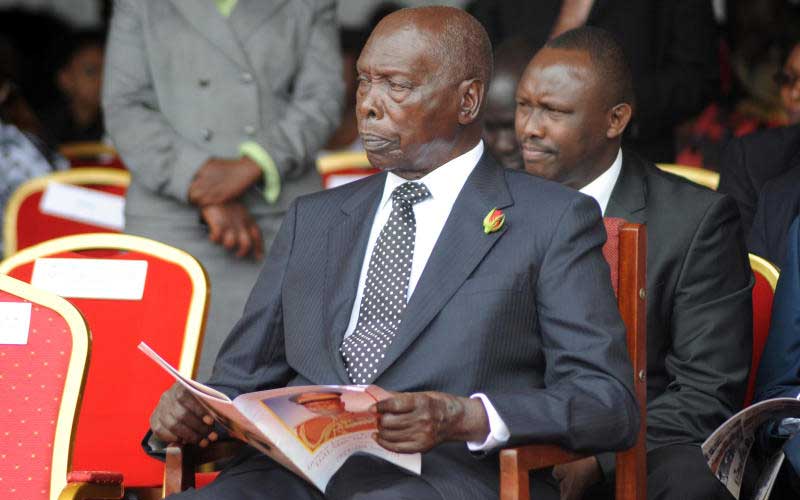 Former President Daniel arap Moi
(pictured)
will be remembered for stabilising the sugar and fishing industries in Nyanza, the region's leaders have said. Former Cabinet Minister for Regional Development Onyango Midika said that Kenya's second president, who took a final bow yesterday, stamped out cartels in these two sectors. Mr Midika said yesterday in an interview that Moi would visit sugar factories in the region to address challenges faced by various industry players.
SEE ALSO: Victory Farm staff call off strike after meeting with management
The most salient challenge was cartels that were squeezing farmers out of sugar profits. "It is under Moi that various sugar factories in Nyanza were established. The industries were doing well and cane farmers were being paid on time," he said. Keziah Opondo, a Kanu woman leader in Nyanza, said although there were no fish processing industries in the region, fish mongers benefited because there were no middlemen along the value chain. "The business was booming. Currently, fish prices are so high that consumers strain to buy fish. Traders get very little profits," Ms Opondo said. "We are now hearing of something called 'China fish' in Kisumu. Moi protected this industry. There were no cartels importing fish from other countries."
SEE ALSO: A not so secret Coup and needless deaths
Again on sugar, Midika said the poor state of government-owned sugar factories in Nyanza - Chemelil, Muhoroni, Miwani and Sony - could not be comprehended in the Moi era. While Muhoroni and Sony are struggling to stand on their feet, Chemelil has not been crushing for the last eight months. It has also not paid staff for 22 months. Midika opined that the dwindling fortunes of the millers was as a result of neglect by post-Moi regimes. He said Moi prioritised agriculture as the backbone of the Kenyan economy, claiming that successive regimes did not pay close attention to that sector. "During his time, Nyanza farmers were happy. They invested in sugar cane production because it was rewarding," Midika said.
SEE ALSO: Nairobi's growth shocked Mkapa — Recalls ADC