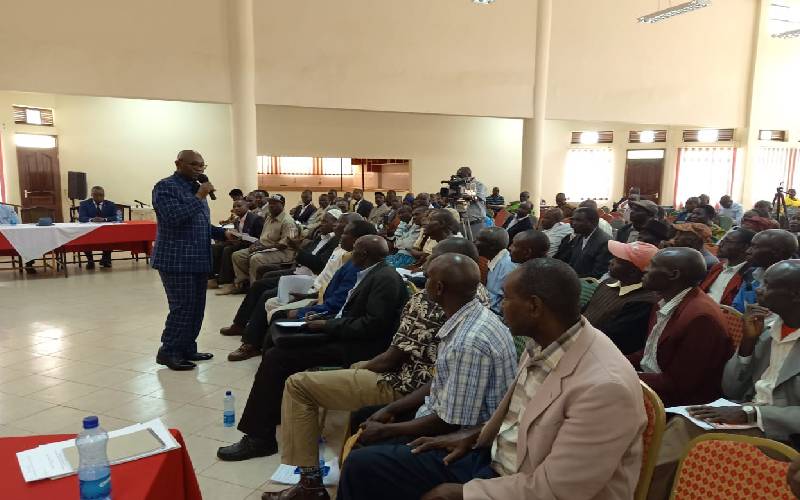 Kisii Governor James Ongwae has appealed to the National Government to waive all loans owed by local coffee farmers to boost their incomes.
Speaking during a public participation forum on the proposed Public Finance Management (Coffee Cherry Advance Revolving Fund) Regulations, 2019, Ongwae said coffee farmers owe various financial institutions millions of money.
Ongwae said farmers are feeling the burden of loans they owe to various government institutions, adding that only a debt waiver will hand them a reprieve.
"Giving a waiver on the outstanding loans coffee farmers owe various government institutions will motivate them to continue tending to the crop," he said.
The forum organised by Coffee Taskforce Implementation Committee led by chairman Prof Joseph Keiyah said the debts outstanding since the 1970s have proved a challenge to farmers, some of whom have been forced to abandon coffee farming.
Read More
The coffee Cherry Advance Revolving Fund is aimed at facilitating loans to coffee farmers to improve production and earnings to farmers.
The National Government has set aside Sh3 billion to operationalise the fund.
The county chief advised local farmers to join cooperative societies to benefit from the kitty.
"Our farmers have to join cooperative societies to benefit from the kitty. This will eventually improve individual livelihoods," said Ongwae.
The Governor challenged farmers to seek professional advice on best crop husbandry practices and financial management.
He said his administration has developed a policy frame streamline the sector's management and operations and cushion farmers against losses.
"My government is developing a policy framework to streamline operations and management in the coffee sector," he said adding that the policy document is ready and will be subjected to public participation soon
He appealed to the task force to recommend a bailout for farmers to fund the upgrade of machinery in various factories to improve quality.
"My appeal to the taskforce to recommend is to bail out farmers in funding the upgrading of the machinery in all coffee processing factories to ensure quality coffee products."
Prof Keiyah said they carefully examine the views from farmers concerning the sector.
Keiyah also described access to cheap credit and fair and timely payments as being at the heart of the coffee sub-sector reforms, adding that his committee will ensure that the money was not misused like in similar schemes in the past.