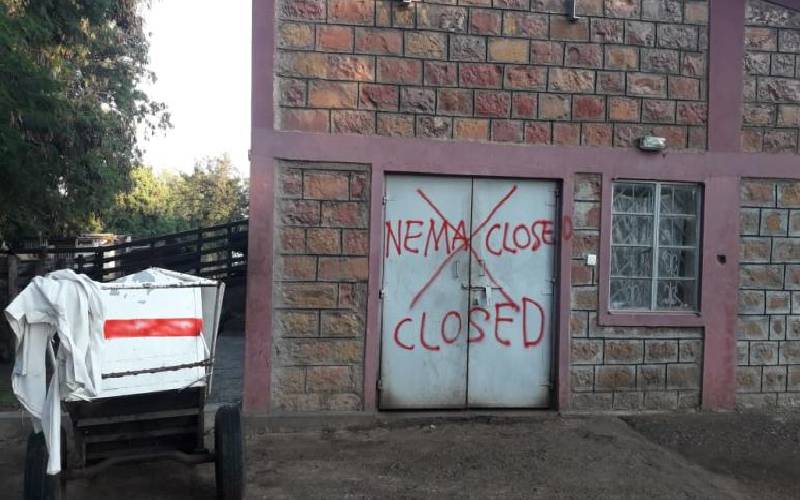 Homa Bay county government has repaired a slaughter house closed last year for discharging waste into Lake Victoria. The abattoir's old blood situated at the shore of Lake Victoria was constructed in 1940s and had worn out. Wreckage of the blood bank led to discharge of blood into the lake, leading to water pollution. The discharge made the National Environment Management Authority (NEMA) ban operations in the abattoir in October last year.
SEE ALSO: Lawyers want key local sites renamed
But Homa Bay County department of Agriculture has re-opened the facility after solving environmental issues which were pointed out by NEMA. The County CEC for Agriculture Aguko Juma said the key measure in addressing environmental issues was proper repair of the blood bank. "The abattoir was closed last year because leakage of the blood bank posed environmental risks. We have repaired it to ensure it does not discharge any blood," said Aguko. He said the NEMA officials had supervised and are satisfied that the butchery was no longer an environmental hazard. "NEMA has supervised our repair work and given them green light to resume operations in the butchery," said Aguko.
SEE ALSO: Rangwe NG-CDF purchases Sh33m buses for various schools
The CEC member said they had put measures in place to upgrade the slaughter house to a modern status. "We have already taken a supplementary budget to the county assembly for approval. We want to build a modern butchery that will serve our traders and farmers better," he added. Reopening of the butchery is a sigh of relief to many butchery operators in Homa Bay town Local butcher operators chairman Josia Ngeso said closure of the slaughter house made them incur huge losses. "We used to depend on slaughter houses in other towns such as Rodi Kopany and Nyangweso which are situated many kilometers away from Homa Bay town. This was costly," said Ngeso.
SEE ALSO: Rice farmers ditch crop amid increasing fears of food crisis