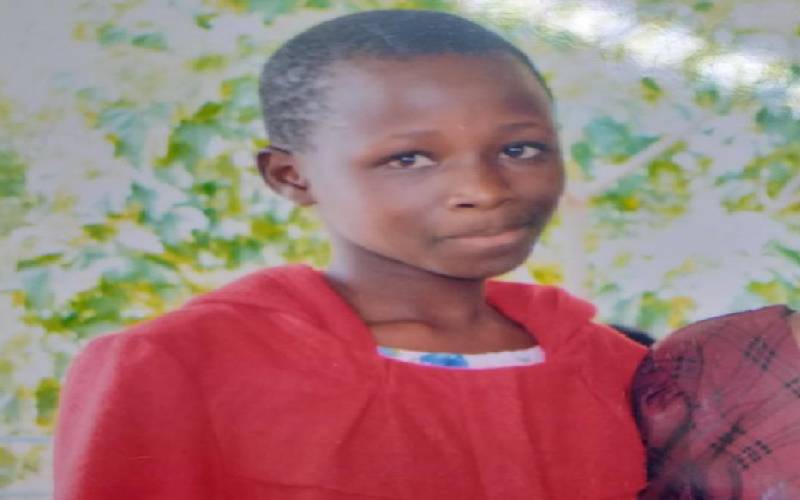 A family in Chiga, Kisumu County, is in agony following the disappearance of their teenage daughter.
The Form Two student at AIC Kipkeikei Secondary School in Trans Nzoia left home on January 5 for her aunt's home in Kitale before she could report to school. But she neither reached her aunt's place nor school.
The 14-year-old girl was last seen in the company of a pharmacist at a local bar the day she disappeared.
Controversy surrounds her disappearance after police officers released the key suspect from custody without preferring any charges against him, despite the suspect admitting that he had booked the girl into a lodge.
Questions also remain as to why the officers arrested the suspect twice and released him on two different cash bails of Sh5,000 and Sh7,000 last week. Area OCPD claimed they were still investigating the matter.
The suspect, a pharmacist in Chiga, reportedly met the girl for the first time when she sought treatment for a menstrual condition in December last year at the facility where he works.
Investigations indicate that the medic had contacted the minor on a number of occasions on the family mobile phone. He even sent her a message on New Year's Day, according to one family member.
Kisumu East OCPD Ezekiel Sing'oi said they were still investigating the case.
"We established that there is a young man who has been in contact with the missing girl and we have the suspect in custody," said Singo'i.
The suspect, however, was not in custody as claimed by police. When The Standard visited the health centre where he works, he was going on with his duties as usual.
He confirmed that he was released on Sunday after spending two nights at the police cells. A supervisor at the facility also confirmed that the man had been released.
The girl's parents said they have been having sleepless nights since their daughter went missing.
"She left home at around mid-day and we expected her to reach her aunt's home in Kitale that evening...," said the father.
The family driver had dropped off the girl at the bus stop on the material day.
He said they called her aunt in the evening and were told the girl had not been seen.