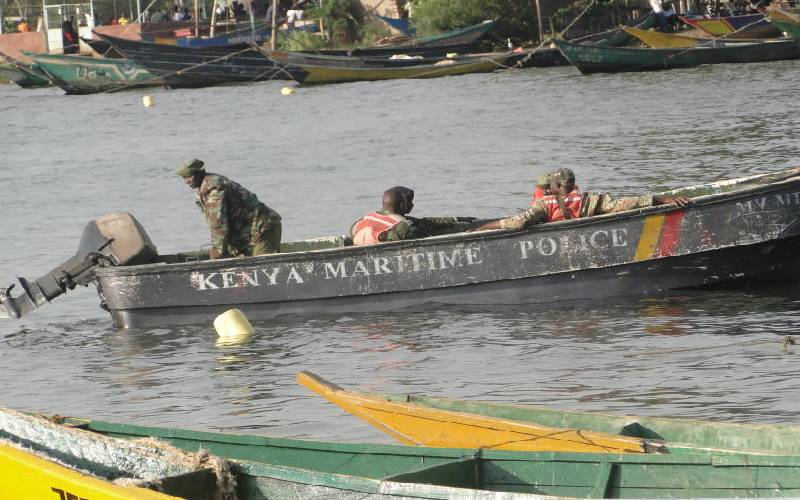 Eight local fishermen from Muhuru Bay, Migori County arrested last week in Lake Victoria by Tanzanian police have been released after paying a whooping Sh490,000 to secure their release.
Speaking to the Standard over the phone on Sunday Kibro Beach Management Unit Chairman Joel Maulidi said their colleagues who were taken to Sota beach in Tanzania were released after paying Sh30,000 each and another Sh250,000 for the five boats confiscated.
"They were in five boats which were also impounded alongside their engines, several fishing gears and their catch" said Maulidi
"We have paid Sh240,000 for eight Kenyan and Sh250,000 for five boats totaling Sh490,000 for our people to be free," said Maulidi.
Weak government
He said in similar incidences they have been forced to part with excess of Sh100,000 to release their colleagues.
He accuse the Kenya government of being weak in protecting its citizens hence exposing them to rampant attacks from the neighbouring authorities.
"Kenyan government has been weak in enforcing rules and policing the lake which has exposed us to harassment by Tanzania and Uganda forces," he said.
Maulidi, however, said 12 fishermen from Tanzanian who were arrested alongside their colleagues were released free of charge.
They have appealed to the government to stop rampant harassments of local fishermen by both Tanzania and Ugandan authorities.
"This is like piracy, this is just a way Tanzanian officers are making money from poor Kenyan fishermen, the government should provide a lasting solution from this frequent harassment in the lake, Kenyan fishermen's are suffering day and night," he said.
Rampant harassment
Muhuru Bay MCA Hevron Maira said early this year they had to pay Sh200,000 to release 26 local fishermen arrested by Tanzania after being held for six months.
"If the government cannot protect its citizens, at least they should pay these fines to secure their release," said Maira.
The two lamented that local fishermen face harassment from the security officers from neighbouring countries but the government is just silent over the matter.
They want government to offer a lasting solution to insecurity issues in Lake Victoria which undermines the spirit of brotherhood under the East African Community.
The eight were arrested at dawn by Tanzanian authorities during a fishing expedition in the lake last week.