Ex-Roads boss, wife in court over Sh180m loss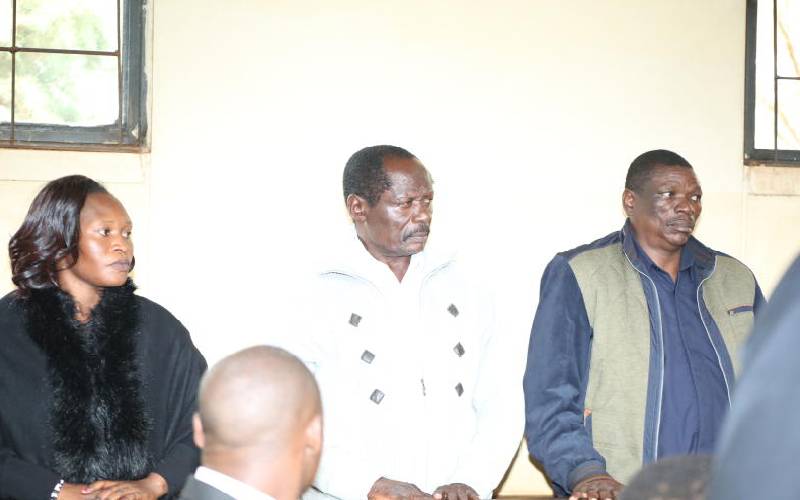 Three county government officials were charged yesterday in connection with loss of more than Sh180 million.
Former Roads Chief Officer Chris Agong, his wife Mary Wesonga who is the Supply Chain Management Officer at the county, and an administrative officer Kepha Rombe, denied various corruption charges before Kisii Chief Magistrate Nathan Shiundu.
The three spent Monday night at Kisii Police Station after they were arrested by detectives attached to the Ethics and Anti-Corruption Commission (EACC) Kisii office.
The magistrate released the three on Sh5 million bond each with similar surety, and ordered them to surrender their passports to the court.
Mr Rombe is accused of having a direct interest emanating from the county government in the payment of Sh37,885,000 paid to Rumbek Underpass Investments, a business in which the accused is the sole proprietor.
He is accused of fraudulently acquiring public property between March 1, 2015 and February 2, 2018.
Mr Agong faces a charge of conflict of interest contrary to section 42 (3) as read with section 48 (1) of the Anti-Corruption and Economic Crimes Act, 2003.
He is charged that between July, 2016 and July, 2018, he knowingly held a direct private interest in an investment emanating from the county government in the payment of Sh100,784,296 paid to Matora Construction Company Limited through account number 011485891108200 at the Cooperative Bank of Kenya.
His wife, Wesonga, who is a director in the same company, faces a similar offence.
Agong faces another charge of abuse of office in which he is accused of improperly conferring Sh35,045,043 to his Matora Construction Company Limited, a company in which he had an interest as a signatory to its bank account.
Ms Wesonga, Agong and Matora Construction Company Limited are also charged together over the payment of Sh100,784,296.
Wesonga faces another charge alongside the company in which she is accused of carrying out business without being registered as a contractor.
The offence is alleged to have taken place between July 2016 and July 2018 contrary to the National Construction Authority Act, 2011.
Mr Shiundu issued a warrant of arrest for three other suspects — Leakey Okeyo, an accountant, chief protocol officer in the governor's office John Oloo and Daniel Owuor — the county head of accounts.
Mr Okeyo, alongside Modern Sky (Kenya) Security Services, are accused of having fraudulently acquired Sh4,196,689 in the provision of security services.
Mr Owuor, who is also a director at Barracuda Resort Limited, is accused of conflict of interest in payment of Sh44,610 for provisions of catering services.