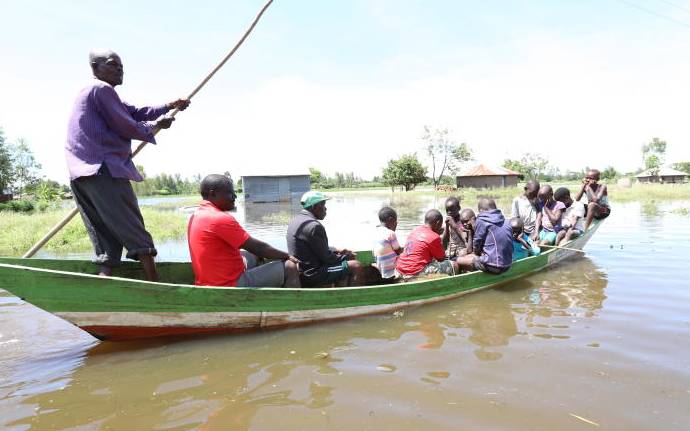 Hungry children shivered in the cold as their helpless mothers ferried loads of household goods to safer grounds after flash floods displaced least 1000 people in Nyando, Kisumu County. As families counted their losses, more danger loomed as a furious river Nyando showed signs of bursting its banks after heavy downpours upstream. Residents said the flush floods, which started on Sunday spread into the villages and marooned houses as well as causing massive destruction of property. The worst-hit villages include Kasiwindi South, Kanyipola, Kasambura, Kalo North and Kalo South.
SEE ALSO: Sh2b for slums upgrade
"It will be worse tonight should river Nyando burst its banks," said caren Aoko, as she breastfed her baby. Community leaders on Monday mobilized boats to rescue villagers and their animals as well as household goods, while those who had no ready access to the only mode of navigation through the waters braved the raging waters to save their property. Local youths were mobilized by area chief to assist the elderly. The affected residents are now camping at Ombaka and Ogenya evacuation centres. There are fears of more displacements as River Nyando threatens to break its banks
SEE ALSO: Man kills daughter after boyfriend's sleepover
Leonard Ogola, 73, had to escape at night with seven members of his family to the nearby Ombaka Primary School where 200 other families had sought refuge. "I was hesitant to move to the evacuation centre because I thought the waters could subside. However, on Sunday night the water levels increased so we picked few clothes and moved," he said. "The following day when I went to rescue the remaining items, I found all my chicken and food items swept away by floods," he recounted. Mary Ouma, 28, a mother of three, said her crops were swept away by the waters. "My rice crop was almost due for harvest but now it is all destroyed. Rice farming has been my only source of livelihood and I don't know how life will be after this," she stated.
SEE ALSO: Man held for killing daughter, 15, for spending night out
Lawrence Omondi, 35, a volunteer who helped in evacuating some of the residents who had been marooned said he swung into action after the residents had waited for government intervention in vain. "For the last two days I have not gone fishing to help these residents to move to safe ground, he said. The Red Cross Society and the county government were on the ground to conduct an assessment of the damage and mobilse assistance. Kisumu County Red Cross Coordinator George Opidi said the residents were staring at a serious humanitarian crisis and called on residents living on flood-prone areas to move to higher grounds before they are affected. "Most houses we have assessed are marooned and not suitable for human survival. There is a possible outbreak of malaria and cholera. The latrines are currently filled. There is clean water for domestic use," he said. Ombaka - Kakola assistant chief Jacob Ong'udi said the floods have caused massive losses to residents."Currently, there is no pasture ground for livestock, agricultural farms are destroyed, there is no other means of transport other than boats," he said.