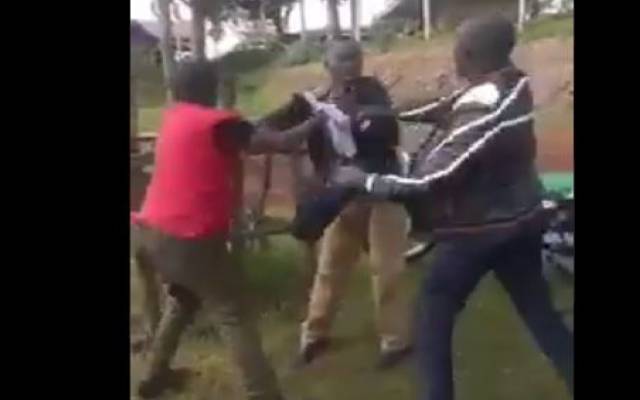 Police in Kisii are hunting for three more men seen in a viral video clip beating a hapless man; Anthony Machoka outside Bomachoge Borabu Constituency development offices.
The video went viral on Tuesday morning five months after the incident happened. The matter was reported at Kenyenya Police Station but it is not clear why action was not taken.
Kenyenya Sub County Police Commander Philip Oyugi confirmed that the matter was indeed reported at the station.
Two of the three suspects have since in the clip have since been identified as Samuel Ochera (Assistant CDF Manager) and Bob Nyaosi.
Thursday afternoon, Kenya Sub County Deputy County Commissioner David Mbevi confirmed that one of the suspects seen assaulting the victim was arrested but escaped as he was being booked at Kenyenya Police Station.
The Standard has since established that the victim is a student at Kisii National Polytechnic and he had gone to seek some services at the said office. Ostensibly he had some political differences with the accused persons who at the time were working in the Constituency offices.
Machoka is alleged to have recorded the said CDF officials speaking against their boss; Prof Zadock Ogutu, and later on shared it in various social media sites.
Speaking on phone to the Standard, he said the suspects should be arrested and face the law.
"I was beaten by people who are close to me. Let the police do their work because justice has never been served five months later."
He alleges that when he went to record a statement with the police but was instead arrested and forced to pay Sh5,000 cash bail.
"I never withdrew the case from the police, they threatened me that they could charge me with creating disturbance forcing me take cover."
Machoka contradicted Kisii County Commander Martin Kibet's statement that the victim had agreed to withdraw the case.
"Everything points at some officers at Kenyenya Police Station who rested me. The incident happened less than 10 metres away from the Deputy County Commissioner offices and in the full glare of the public," said Machoka.
Machoka admittted he was not aware there was somebody recording the incident.
"I thank the person who recorded the clip which will ensure that I get justice."
Yesterday, area MP; Prof Ogutu confirmed that the three staff seen in the clip roughing up the victim had been sacked.
"They have since lost their jobs. Police were left to handle the case."
The incident has raised mixed reactions from locals with others calling for the immediate prosecution if the suspects.
Denis Gekara said that no person should be allowed to assault anybody either in public or in private.
"The law should never be applied selectively, let justice prevail."