Alarm as investors lose cash to shrewd land buying cartels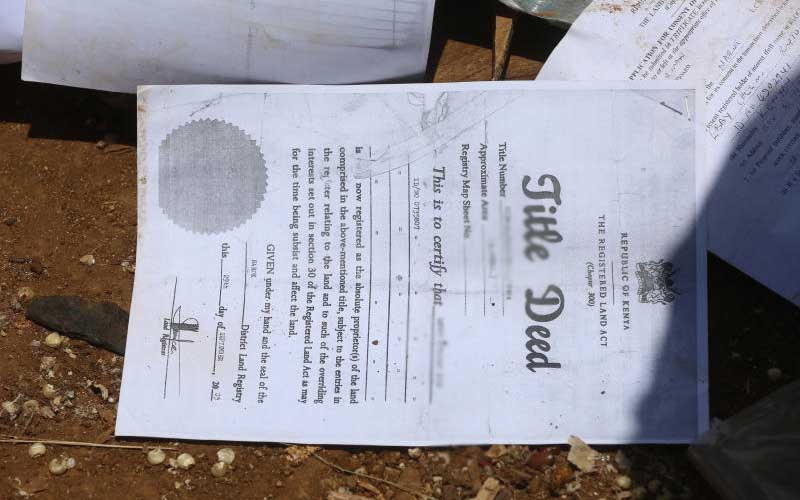 Police and Ministry of Lands officials in Kisii are investigating a cartel that has conned residents millions of shillings by selling them non-existent parcels of land.
Some cases are not reported to the authorities, with complainants resorting to other mechanisms, including eliminating the suspects and other landowners.
Residents say it is no longer the issue of land grabbing but the duplication of title deeds and selling of non-existing land that is giving them sleepless nights.
The duplication of title deeds has seen several investors lose millions of shillings to cartels who operate closely with a clique of legal clerks to sign dubious land agreements.
Those who have lost millions include a former MP from Kisii, several Kenyans living in the diaspora and senior county government officials who chose to pay cash for land transactions.
A senior human resource manager for a leading beverage company in the country and a doctor are among five people who have been sold the same piece of land near Daraja Mbili market in Kisi town.
According to the investigations, the suspects include three individuals -- two men (one in his 20s) and a woman -- who act as a family ready to sell their family land. In this particular case, the suspects received between Sh1.5 million and Sh2.5 million from different buyers.
Court injunctions
Peter Ombuna has lived in Canada for 13 years but when he returned home in August this year, he discovered that his piece of land measuring 120 by 200 feet along the Kisii-Nyamataro road had been sold more than 10 times.
He discovered this when he applied for approvals to put up a residential house on the land. Several court injunctions had been issued, forcing him to also move to court.
For now, Ombuna cannot develop his legally acquired land until the court pronounces itself on the matter.
Recently, a Kisii County government executive lost close to Sh3 million in a forged land agreement.
The senior official is said to have trusted a popular land broker in town and handed him the cash to buy land at Gesonso, a few metres away from the area police station.
The holding size for Kisii County is small, ranging from 0.2 hectares to 2.1 hactares. The small size of land holdings are due to high population pressure and the cultural practice of subdivision for each son in the family for inheritance purposes.
Kisii land registrar Steve Mokaya called for digitisation of land ownership in the area.
"We have made major steps in solving land issues. The alteration of title deeds is not done in our office but it is the responsibility of the buyers to check the authenticity of title deeds," he said.