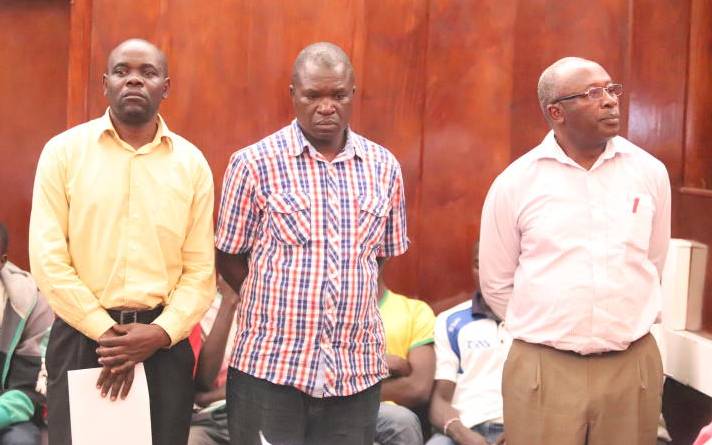 Five former Siaya County officials accused of corruption have a case to answer, a magistrate has ruled. Kepha Marube, Zakayo Ojuok, Tobias Odongo, Collins Owino and Amos Okello are facing charges over alleged Sh14 million fraudulent multi-million tender in 2014. Chief Magistrate Julius Ng'arng'ar, however, acquitted Thomas Mboya due to lack of evidence. It was alleged that Marube, a former interim Siaya County Secretary, and his colleagues irregularly executed Sh14.9 million contract between the county government and Samco Traders Limited.
SEE ALSO: Civil Society calls for EACC and DCI to probe FKF
The tender was for supply and installation of assorted sports facilities. According to the charge sheet, the former acting county secretary is also accused of abusing his office by awarding the tender.
Fake document
Ojuok, a procurement officer, was also charged with forgery. The prosecution said he produced a fake document that aided in the award of the tender.
SEE ALSO: Pray, tell me, why are we like this?
The court heard that the official falsified minutes of a meeting that was purportedly held by the county tender award committee. Mboya, who worked as county works officer, is accused of issuing interim certificates for the installation of the assorted sports facilities without "visiting sites to confirm if work had been done". Oloo, Owino and Okello were also charged with issuing an acceptance letter. Yesterday, while acquitting Mboya, the magistrate said two witnesses, Kenneth Omondi and Chibole Aura, exonerated him from being involved in inspection and signing of the interim certificate. "The fourth accused has no case to answer and thus dismiss the sixth count of the charges placed against him under Section 210 of the Criminal Procedure Code," Mr Ng'arng'ar ruled.
SEE ALSO: Revenue impasse needs an economic solution
The magistrate placed Marube, Ojuok, Odongo, Owino and Okello on their defence. The case will be mentioned on November 18.