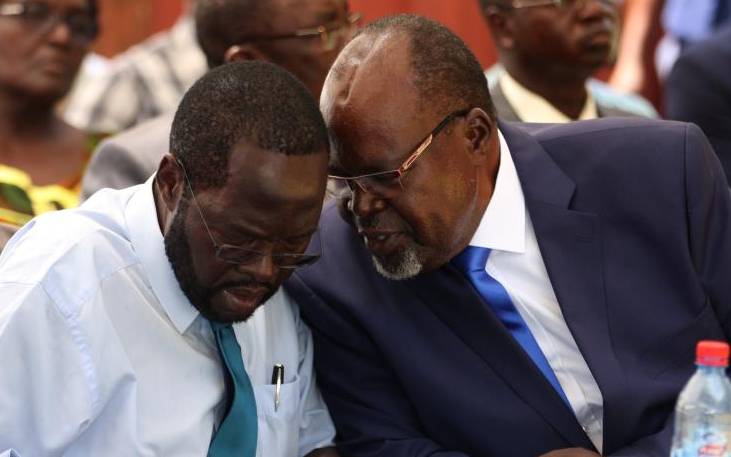 Kisumu Governor Prof Anyang' Nyong'o (in white shirt above) has sacked three executive committee members. The mini-reshuffle announced yesterday followed a month-long crisis in the county's health sector that saw services paralysed after medics and support staff went on strike demanding three months' salary arrears. The health docket was, however, not affected in the changes, given the current executive, Prof Judith Atyang, was appointed only three months ago.
SEE ALSO: Nyong'o, MP clash over Sh6.3b road
Nyong'o earlier in the morning chaired a tense cabinet meeting in which he is said to have read the riot act to his officers. The sacked executives are Alice Moraa (Energy and Industrialisation) Richard Ogendo (Business, Cooperatives and Marketing) and Thomas Ondijo (Roads, Transport and Public Works). The reshuffle came in the wake of growing public resentment in the way business is being by some of the executive members. In the changes, Lands and Physical Planning Executive Dickson Obungu was appointed acting head of Roads, Transport and Public works docket. Nyong'o also moved Finance Executive Nerry Achar whose docket has been under attack over delayed payment of workers' salaries, contractors' pay and alleged failure to remit rent for Deputy Governor Dr Maythews Owilli. Achar is a new Energy and Industrialisation executive, replacing Ms Moraa. Education Executive Dr Obiero Ogone will act as Finance boss awaiting the formal appointment of the governor's Economic advisor, George Okongo to the docket. Agriculture Executive Gilchrist Okuom was appointed acting Business, Cooperatives and Marketing docket boss. He takes over from Ogendo.
For vetting
The county boss forwarded Omondi's name to the county assembly for vetting. The governor has had a high turnover in his two-year government. Shortly after he took over, he sacked his then Chief of Staff Patrick Ouya and replaced him with former Masai Mara University lecturer Dr Omondi Ouno. He also sacked Health executive Dr Rosemary Obara, who was succeeded by Prof Atyang. Just last month, he appointed former Kisii County Commissioner Geoffrey Kigochi as county secretary, replacing Dr Oloango Onudi.