Man suspected of killing teen in hiding after locals' wrath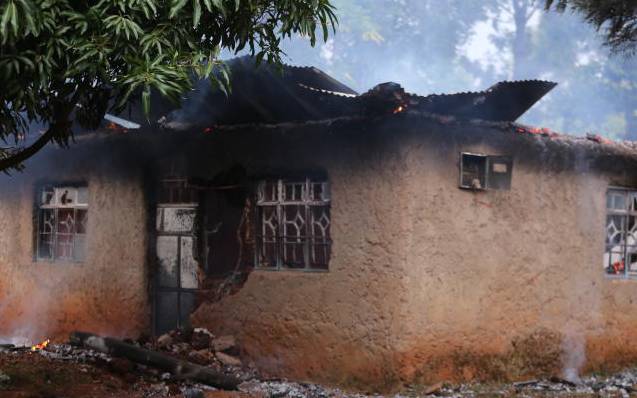 The burial of a teenage girl in Nyahera was momentarily disrupted at the weekend when residents invaded the home of her suspected killer.
Angry mourners burnt the suspect's house after he went into hiding.
The residents were angered that the man, said to have defiled the 14-year-old girl before killing her, had been released from police custody.
After burning the house, the locals engaged police, who wanted to keep them from causing more damage in the suspect's home, in running battles.
Vow revenge
Chaos started after a local church had finalised a burial service for the girl, and released the casket for interment.
The residents marched with the casket to the home of the suspected killer vowing to avenge the girl's murder.
When they did not find him, they burnt his house. The girl was buried later on Saturday evening after her body was carried around the village by the screaming mourners.
Those interviewed said the girl was last seen at the suspect's home last week, where she had gone to fetch water.
Her body was later found by a roadside in Nyahera.
"The suspect was released under unclear circumstances and that is what has led to the violence," said Douglas Miyumo, a resident.
Elijah Odero, another resident, said the suspect was a water vendor in the village. He said the man was at home when the girl went there to fetch water.
Kisumu County Police Commander Benson Maweu said when the suspect was arraigned, the Directorate of Criminal Investigations asked for more time to unearth more evidence against him.
Mr Maweu averred that the court had few options but to release him. He stressed that police had a difficult time pinning the murder on the suspect since no witnesses had turned up to record statements.
"The villagers are only suspicious of him. No one wants to record a statement that we can use against the man," said Maweu.
Difficult case
"It is a difficult case. Even the assistant chief does not want to come out and give evidence," he added.
A post-mortem report indicated that the girl was strangled and hit with a blunt object.
The victim, according to police records, was also defiled.