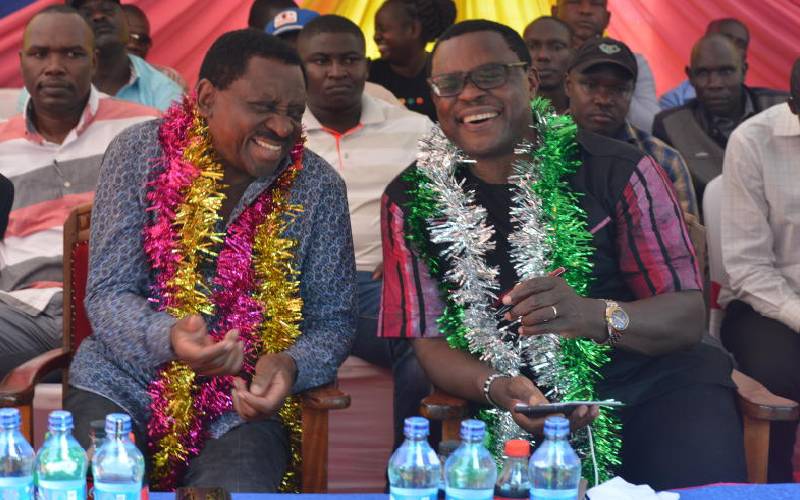 Senate Speaker Ken Lusaka and Siaya Senator James Orengo have opened up on what informed the decision by the House to accept Sh316.5 billion for the counties.
On Thursday, the Senate Leadership declared that they had reached an agreement for the money to be released to counties, effectively ending their protracted standoff with the National Assembly.
Members of the National Assembly had vehemently rejected the senators' push for a Sh335 billion allocation in the Division of Revenue Bill, 2019.
Speculation has been rife that the Senate leadership led by the Speaker, House Majority Leader Kipchumba Murkomen, his minority counterpart James Orengo among others had been compelled by the Executive to back down.
However speaking on Friday in Siaya town during a funds drive for women groups, Lusaka and Orengo dismissed claims that the Senate was coerced to accept the allocation.
Read More
They explained that the Senate agreed to the Sh316.5 billion proposed by the National Assembly to prevent a shut-down of county governments.
The lawmakers had proposed Sh335 billion for counties, leading to the publication of parallel Bills by the Senate and National Assembly, and a subsequent long-drawn dispute pitting the two Houses against each other.
Sittings by a joint team to mediate over the matter turned into a circus, as the sides ended up shouting down each other during the sittings.
"Ours was a painful and patriotic decision that was informed by the need to avert the biting crisis in the counties. We just retreated, which should not be interpreted as cowardice," said Lusaka during a fundraiser for 200 women groups at Ahindi Grounds in Siaya town.
Orengo noted that the money does not belong to any particular leader, including the President and that the reforms made in the Constitution of Kenya cannot be changed.
The Senate Minority Leader argued that even as they support President Uhuru Kenyatta, the Executive should understand that the funds for Kenyans.
"The monies that come to counties are not a favour from the President but the right of the people of Kenya as they are taxpayer's," he said.
Orengo said that President Uhuru must not be seen to be dictating to the Senate or the National Assembly being independent institutions just like the Executive.
He said that senators gave in to resolve the revenue stalemate but will work on the constitutional question of whether the President can sign an appropriation bill into an Act before the division of revenue Act.
"The President must not behave as if he is doing Kenyans a favour by disbursing these funds. As much as we are working together with, we must not fail to tell him the truth. I am speaking confidently because I am one of the people who fought for these changes and I will not allow them to go to the drain," said Orengo
He maintained that the fight for the people to have what is rightfully theirs will continue despite the consequences.