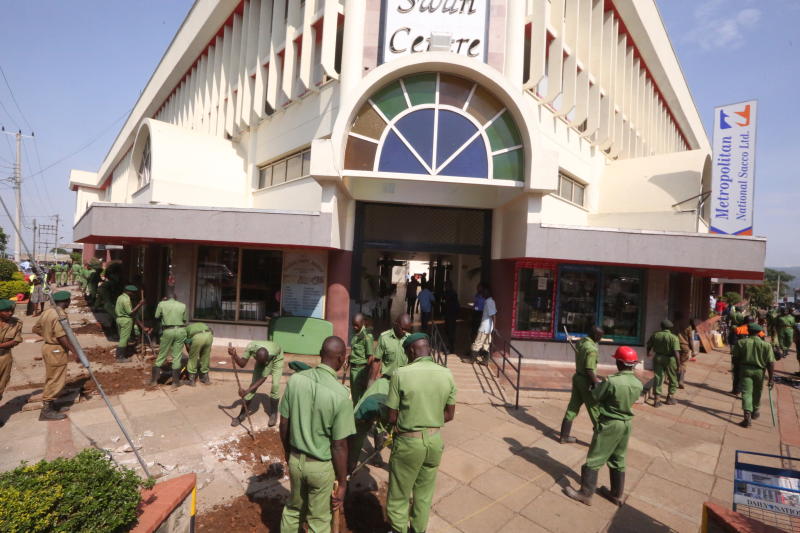 Uncertainty has gripped business owners after Kenya Railways officials fenced off several iconic buildings to pave way for a fresh round of demolitions.
The buildings targeted include Swan Centre, part of Mega Plaza Mall and several other structures along Obote Road.
The development will deal the city's economy a major blow coming a few weeks after about 10,000 people were rendered jobless after their businesses were flattened.
A key road connecting the town to Lwang'ni beach has also been fenced off, with tenants in nearby buildings expressing fears they could be the next victims.
No notice
Read More
Yesterday, several landlords and their tenants were plotting their next move as National Youth Service recruits began sealing off the buildings.
They claimed they did not receive any notice to vacate the premises and criticised Kenya Railways for the way it was conducting the exercise.
But it is Swan Centre that will be the hardest hit. The building houses several companies, including the Standard Group Kisumu office, Choppies Supermarket, Kenya Maritime Authority Western Region office as well as Metropolitan Teachers Sacco.
The Kenya Revenue Authority occupies three floors in the building, making it the biggest tenant. The building also houses a bank and a number of restaurants, including Al Noor which is frequented by dignitaries.
The proprietors of the building told The Standard they had not received any notice to inform tenants to vacate the building.
Mitchel Menezes, an advocate representing the owners of the building, said the development had caught them unawares but noted that they would challenge the matter in court.
"We do not know who is behind this. My clients did not receive any notice and it is a surprise that they have targeted the building," said Menezes.
The lawyer said the multi-billion shilling property was not among those earmarked by the Ethics and Anti-Corruption Commission (EACC) last week for investigations.
"The parcel of land 7/404 is not among the ones that were released by EACC last week. We are surprised to see the building being fenced off," said Menezes.
Tenants also claimed they had not received prior warning and termed the looming eviction as a big blow to their businesses.
Mega Plaza, which houses Tuskys Lolwe Supermarket, KCA University, banks and shops, has also lost part of its parking.
Other major losers include politicians allied to ODM leader Raila Odinga. Former Gem MP Jakoyo Midiwo, Kisumu Senator Fred Outa, Raila's elder brother Oburu Oginga and a prominent Nairobi businessman, William Osewe, are among those who lost businesses and plots running into millions of shillings as Kenya Railways moved to recover its houses and land.
To add to the woes of the business community, Governor Anyang' Nyong'o's government has announced plans to demolish roadside stalls and kiosks.
The demolition is a continuation of an exercise that started in December last year when the county government condemned hundreds of structures it said were built on drainage systems and road shoulders, or were blocking access to public amenities such as schools and hospitals.
The structures to be demolished are situated behind United Mall and stretch to Kisumu Polytechnic. Others are along Gumbi Road, behind Jamia Hotel, and in Anderson and Ondiek estates.
Marked properties
The Kenya National Highways Authority has also marked properties for demolition to pave way for dualing of the Kisumu-Kakamega road from the city to Mamboleo.
Although City Manager Doris Ombara had issued a fresh one-week notice to the traders, Communication Director Aloice Ager yesterday said the county was seeking a new site to relocate the traders before evicting them.
The business owners are dealers in clothes, shoes, bags and fashion accessories. They also run eateries, salons, and retail and furniture shops.
"We are fast-tracking efforts to get the traders a new location because we are alive to the challenges facing small traders in the city right now," Mr Aloice said.
A port expansion project has made it harder for the county to house the traders.
The evictions in the central business district are happening as Kisumu makes infrastructural improvements ahead of a 10,000-delegate African Cities Summit scheduled for November 2021.